We'd like to take this opportunity to introduce the 3rd prize winners of our Baltic Way Memorial competition - Federico Malnati and Thomas Giuliani from Switzerland!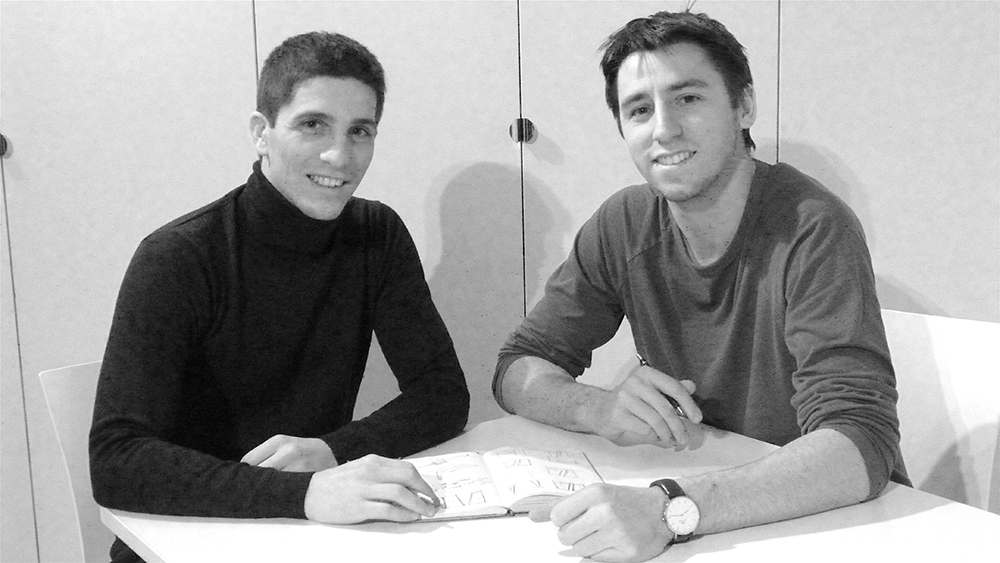 3rd prize winners Baltic Way Memorial: Federico Malnati and Thomas Giuliani
We have been friends since we were 6. We both studied architecture at the Accademia di Architettura di Mendrisio in Switzerland from where we both graduated in 2014. Now we are working as architects in Switzerland in two different offices. Because of our friendship and mutual professional respect we decided to spend some of our free time and weekends working on competitions together.

Federico
During my years of study I had the opportunity to spend some time abroad. I did one year of internship in London in 2010/2011 at Design International office, and the year after I moved to USA as an exchange student at Virginia Tech University. After my graduation at the Accademia with Grafton Architects' Atelier I started working in Switzerland.

Thomas
I did my internship in Rome in the Studio Castelli Gattinara, working on many renovations in the old urban pattern. During the academic studies I have been part of the ateliers of great architects such as Aires Mateus, Quintus Miller and Walter Angonese which was also my diploma teaching professor. I started working in Switzerland too, after graduation.
As young graduated architects we are well prepared in conceptual and schematic design phases, working with scales up to 1:100. Furthermore we are both currently working in architecture offices that have many projects under construction. For that reason our design development skills and construction knowledge are quickly growing (from scale 1:50/1:20 up to scale 1:1).

Federico
In London I realized some room renovations of the London Visitors Hotel with the architect Steve Mouradian. I also recently worked on the construction details of Domus Solis by Guillermo Mazzuca architect in Lugano with whom I also designed the new Manzoni & Fils clock factory.

Thomas
In Rome I was involved in many private house renovations, following them from the design to the final realization. Here in Switzerland I am currently working on some local competitions and the design development of some houses near Lugano.
What does architecture mean to you and what is the role of an architect in your society?
We cannot say what architecture is and we do not believe in one idea of architecture. The important things for us is how architects make their job. In our small reality we take consideration of all aspects around the project trying to find the correct balance between function, structure, technique, aesthetics, art and much more. The results must be able to give the correct meaning to the space of human life.
Why do you participate in architecture vision competitions?
Architecture vision competitions give us the possibility to concentrate our attention on ideas, wishes and values of the projects, keeping alive the creativity.
What advice would you give to individuals who struggle to decide whether it would be beneficial for them to participate in architecture vision competitions?
Do not stop challenging yourself on new ideas and new architectural visions; that will help you in every other step of your future projects.