Foreword

Buildner is pleased to announce the results of its Sansusī Forest Food Court International Competition!

First established in 2014, the Sansusī festival is held each year in Latvia. The event merges chamber music – a form of classical music composed for a small group of instruments – with the excitement, adventure and freedom of a typical rock festival. It combines open-air concerts where visitors can listen to classical music, with other interdisciplinary performing arts such as contemporary dance, circus performances, live theater and exhibitions within a beautiful forest setting.

The Sansusī Forest Food Court competition was run in partnership with the festival, tasking architects and designers to create a food court structure that could function as a central element to the event. The brief sought structures that could be assembled by hand and constructed of sustainable materials.

Buildner worked with an outstanding regional jury that included: Paula Gāgane, an architect and editor of the Latvian creative industries platform Fold; Uldis Trapencieris, a member of the Sansusī festival who is also a carpenter, producer of magazines, books, brand identities and ads, and the technical director of the Latvian National Symphony Orchestra; Armands Siliņš-Bergmanis, an opera singer and board member of the Sansusī association: Ivars Veinbergs, an architect working with the Riga-based office NRJA (No Rules Just Architecture); Oskars Kotello, an architect and co-founder of MERU arhitekti based in Riga; and Marija Katrina Dambe, a sustainable architect and founder of NOMAD architects.

Buildner and its jury panel would like to thank each of the international participants that submitted propositions to this event!


Updated 18 October 2023: Summer Adventure - Building the Sansusi Food Court
Embark on a fun summer adventure with us in this short film as we follow the winners of the Buildner's Sansusi Forest Food Court architecture competition on their trip to Latvia. Join the excitement as they bring their top prize-winning project to life—a lively food court for the Sansusi Music Festival.


Project name
Hanging out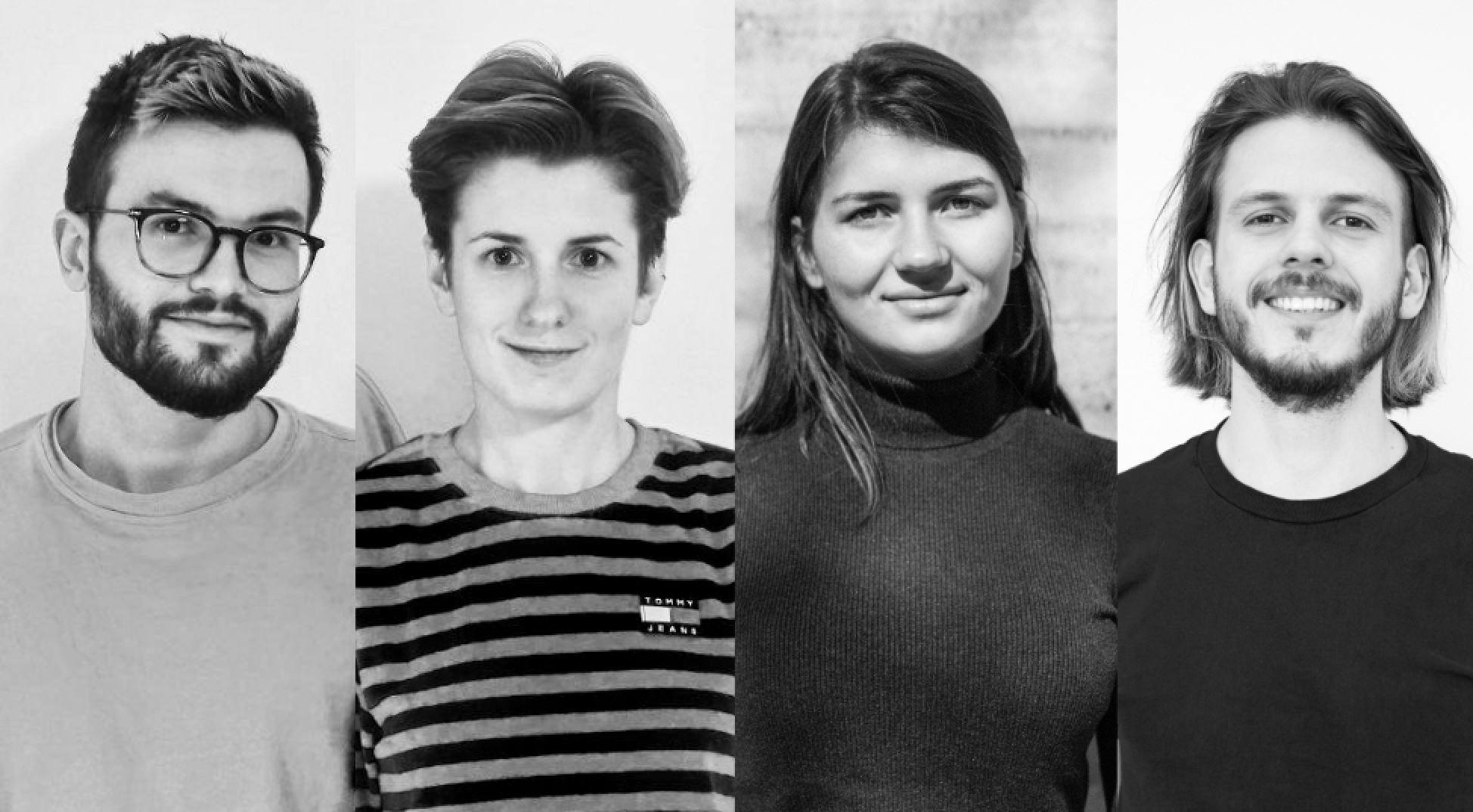 For us, architectural competitions are a means to test and exchange ideas and approaches, grow professionally, and also an opportunity to bring our own projects to life and gain publicity.
Read full interview
Authors Mykhailo Zhuk, Daniil Chechin, Maria Levitskaya, Mariia Samahala
Country
Austria
Jury feedback summary
The winning project, Hanging Out, features a series of simple shed-form structures that are located organically about the site and which can be constructed using locally-available materials of plywood panels and painted metal mesh. Tree stumps sourced from the project site are proposed to be used as supports for seating and tables in a way – a design suggestion that could yield a playful and dynamic organization. The metal mesh, suggested to be painted a bright orange for visual connectivity, can be used functionally to hang elements such as signs, shelves and lamps. The tables can be disassembled and used to close and protect the shed structures when the festival is not in session. The jury writes: "The main advantage of the project is the ability to implement it easily with reasonable resources. The freely scattered positioning of buildings, high functionality and comparatively small installation costs make the project easy to scale for future festival expansion. A more long-term and stable solution may be needed, however, to support the tables and seating."
Buildner's commentary, recommendations and techniques review
Order your review here
The submission is effective in its simplicity and uses a collaged layout to combine renderings, text and diagrams. The introductory image, paired with text, clearly and immediately communicates design intent as well as the small-scale and intimate nature of the project. Its use of light intelligently highlights the design elements amidst the backdrop of the forest, and puts emphasis on the colors used on the following sheets. The text is short and easy to digest, and makes use of bold words to call out main ideas and materials to readers. Its diagrams clearly communicate the flexibility and workings of the project – how individuals might construct and deconstruct the sheds for festival use. The sections would benefit from increased hierarchy of line weights – while the orange-colored mesh helps to differentiate the façade from the 'cut' components, a more clear delineation of the sectional elements would aid the readability of both the overall and detail sections.
Enter an open architecture competition now
Project name
Re(treat)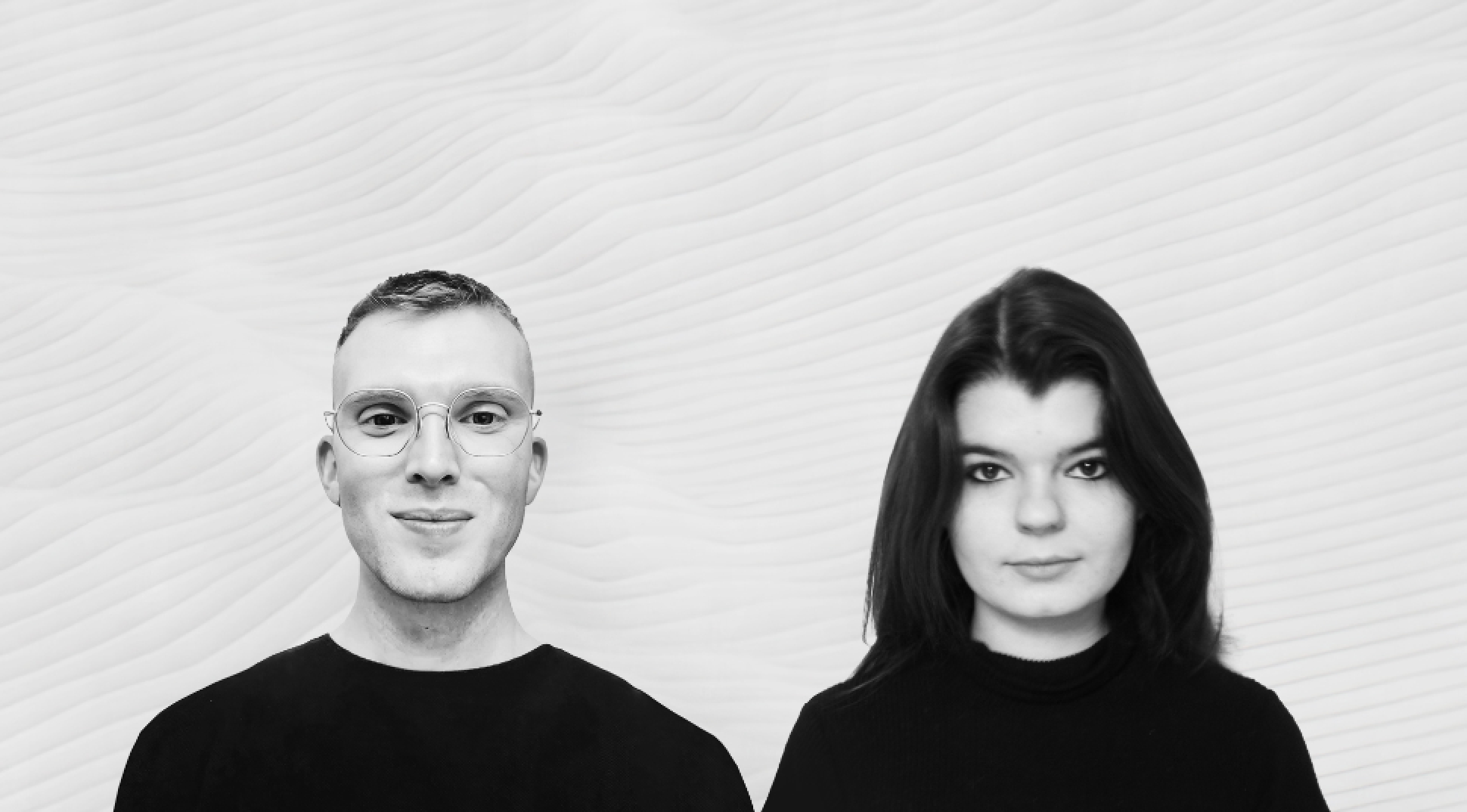 During our time as undergraduate students, participating in architecture competitions enabled us to immerse ourselves in the design world and develop valuable skills in collaboration, time management, and graphic representation. To this day, we continue to enter architecture competitions as a means of exploring experimental and unconventional design. Above all, these competitions bring us immense enjoyment. The opportunity to select from a diverse range of prompts and sites ensures that we are always able to undertake projects that inspire and challenge us.
Read full interview
Authors Liam Martin, Laura-India Garinois
Country
United States
Jury feedback summary
Re(treat) is a proposal for a modular food court consisting of three units sized 3 meters by 3 meters and constructed of locally-sourced timber and upcycled materials. These units serve as an inviting and versatile space for festival goers, as well as a comfortable and versatile space for vendors. It is laid out to ensure no trees are impacted. The efficient design is composed of lightweight wooden frames that could be constructed off-site. The structures are placed on timber bases and protected by corrugated metal roofs. Sliding windows and doors allow vendors to serve clients from any side. Benches, which are placed along paths and clear areas, can be stores inside the units when the festival is not in session. The jury writes: "The submission is aesthetically attractive, fits with the intent of the festival, and proposes structures which can also be used as storage in the off-season. It is an inclusive and measured project in the spirit of Sansusi. It is a proportional, beautiful, and humane building that intelligently plays with vernacular architecture. The construction, however, is complex and could be simplified to facilitate prefabrication and facilitate assembly on site."

Buildner's commentary, recommendations and techniques review
Order your review here
The submission cleverly balances renderings with sophisticated hand drawings to present a project that is textured and complex at the detail level while simple to understand at a macro level. The presentation makes use of a gray background which is effective for emphasizing the black and white line drawings. Its use of a limited number of large and clear drawings is well done and easy to read. The project would benefit from an increased font size – the text is difficult to read digitally. The drawings and renderings would be strengthened with additional annotation to call out design ideas, materials, project components, dimensions and systems. In terms of detailing, a larger-scale drawing would aid a reader in understanding how the modular frames are built – it is currently unclear how the elements might be tied together, and the structure would likely require additional material thicknesses and support elements to be fully constructible.
Project name
The Banquet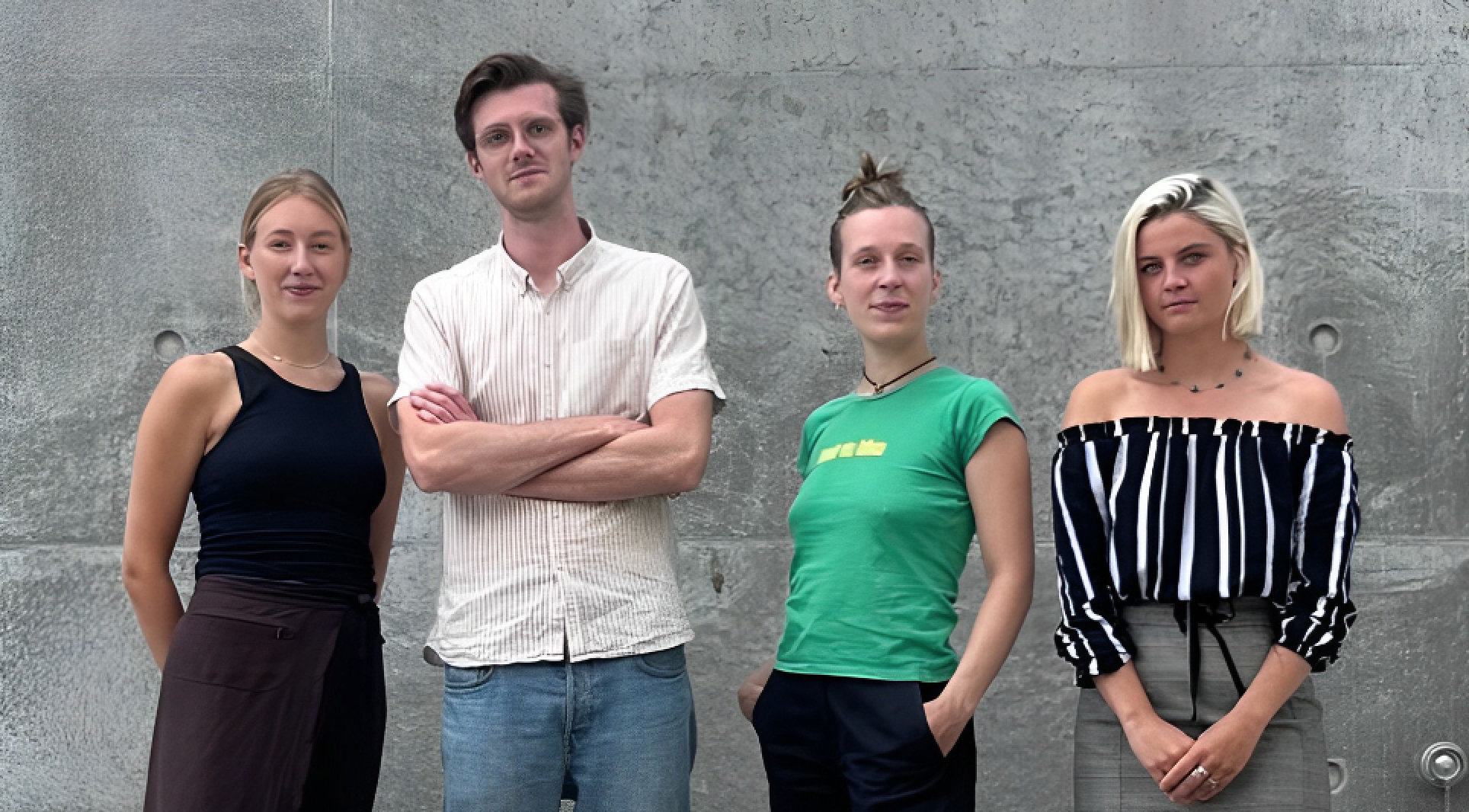 We participate in competitions as they provide a great platform to stimulate and explore the creative potential of architecture. As recent graduates, competitions allow us to further develop and learn in a team-based environment, working within the parameters of the brief and critically questioning architectural processes and interventions.
Read full interview
Authors Andrei Nemes, Ash McCarthy, Alette Avsnes, Selma Gulden
Country
Denmark
Jury feedback summary
The Banquet is a proposal for a series of simple pitched structures which can combine to form a semi-circular food court within the forest. It uses repetitive frames with simple screw connections and is topped with a reinforced tarpaulin to protect the structure from rain. The jury writes: "The project wins with its simplicity and airiness in the forest context. It is a simple and scalable solution that would allow for the dining area to adapt to various needs. The artistic quality of the project's graphic language is especially commendable. On the contrary, the storage of goods is not given adequate space, and vendors may not be sufficiently protected from the weather. The project does not fully solve the secondary task of storage in the off season."
Buildner's commentary, recommendations and techniques review
Order your review here
The submission offers a unique graphic language that communicates design experience and is very effective at engaging a reviewer. Its complex drawings combine lines with textures that clearly highlight the architecture within the natural setting of the forest. The project would benefit, however, from further differentiation of line weights and variation in color: the use of grays makes the drawings read as homogenous, and it is difficult to extract the details, visually speaking. When multiple line weights are used, such as in the enlarged section on the final sheet, they do not help in communicating the design – are the electrical wires more important graphically than the ground and frame? In terms of structure, the project is likely in need of additional cross-bracing to make it a feasible long-term construction for the harsh climatic conditions of the Latvian forest.
Project name
Sansusī Bond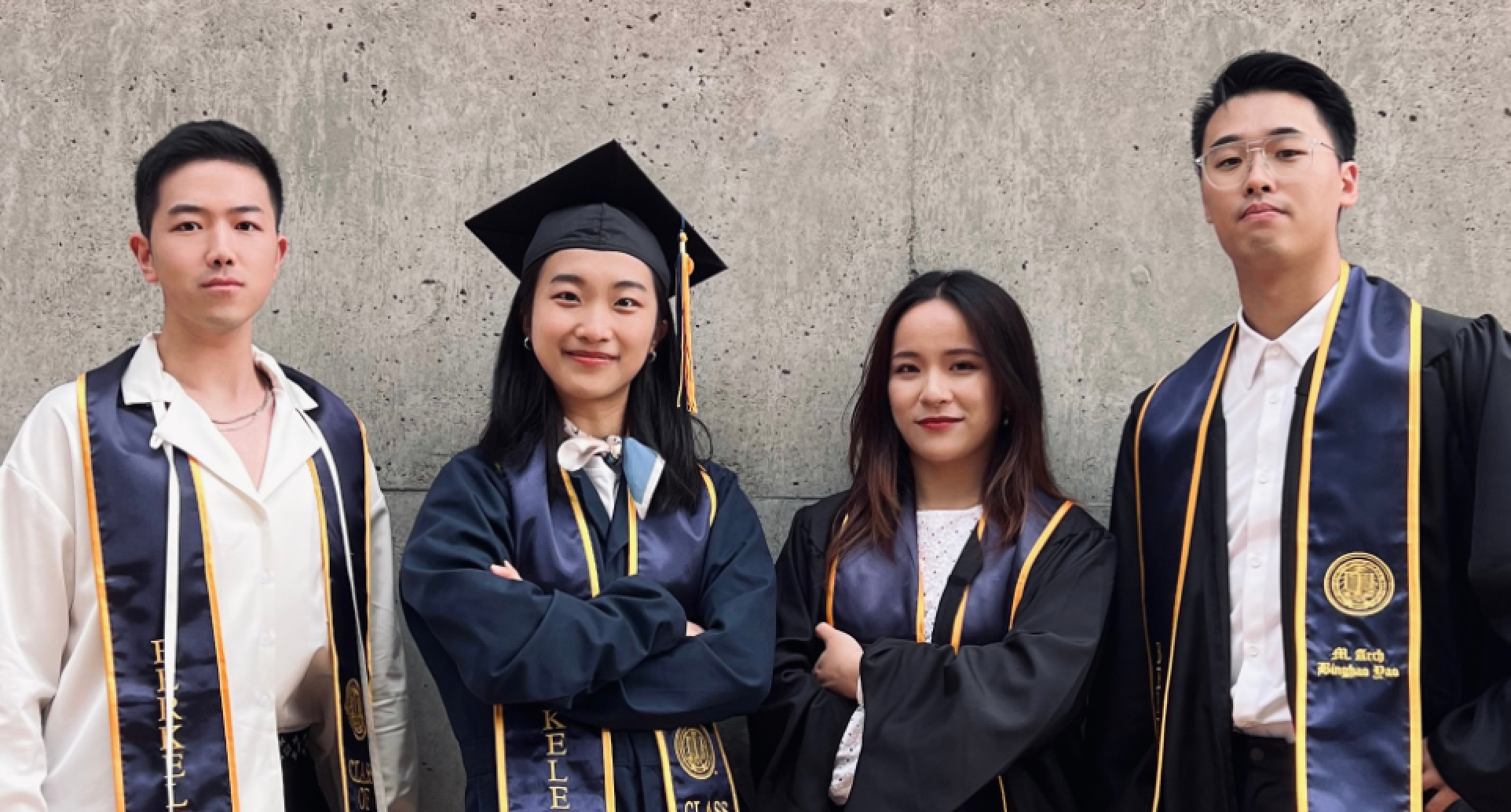 Through gaining experience and building our portfolio, we cultivate self-motivation in our shared field of interest, potentially preparing ourselves to venture into our own business. Architecture competitions balance the conceptual image with the realization of construction, helping us maintain the necessary design sensitivity and stimulate our creativity.
Read full interview
University
University of california, uc berkeley
Authors Yanguang Zhu, Zhiyan Xu, Qingdong Hu, Binghao Yao
Country
United States
+72 points Buildner University Rankings
Jury feedback summary
Sansusī Bond is a proposal for a semi-open loop that is imagined as a communal bridge. The loop encloses a gathering space and multiple elements of the festival. It features a lightweight wooden structure topped by a visually soft membrane. While the project is aesthetically strong and communicates excellent ambitions for inclusivity and the creation of a common social space, its scale is also too grandiose for the project and budget at hand. It would also likely require the removal of several trees to be realized. The project does not adequately detail constructability or provide information as to what sort of material the roofing membrane might be made from.
Buildner's commentary, recommendations and techniques review
Order your review here
The project adequately balances colored imagery with black and white ling drawings to present the project at multiple scales. Its introductory page is especially effective with its use of a rendered image overlaid with white-lines diagrams. The submission includes diagrammatic details while also presenting several rendered images which clearly express the larger-scale design intent for the project within the forest. Though details are included, the project does not sufficiently explain how it might be constructed – for example, how the roofing membrane is affixed and how dimensional requirements of timber are dealt with. The project would likely require significantly more material to be physically robust enough, and this might be detrimental to the project's overall effect of being lightweight.
BUILDNER SUSTAINABILTY AWARD
Project name
The Soundbite Food Court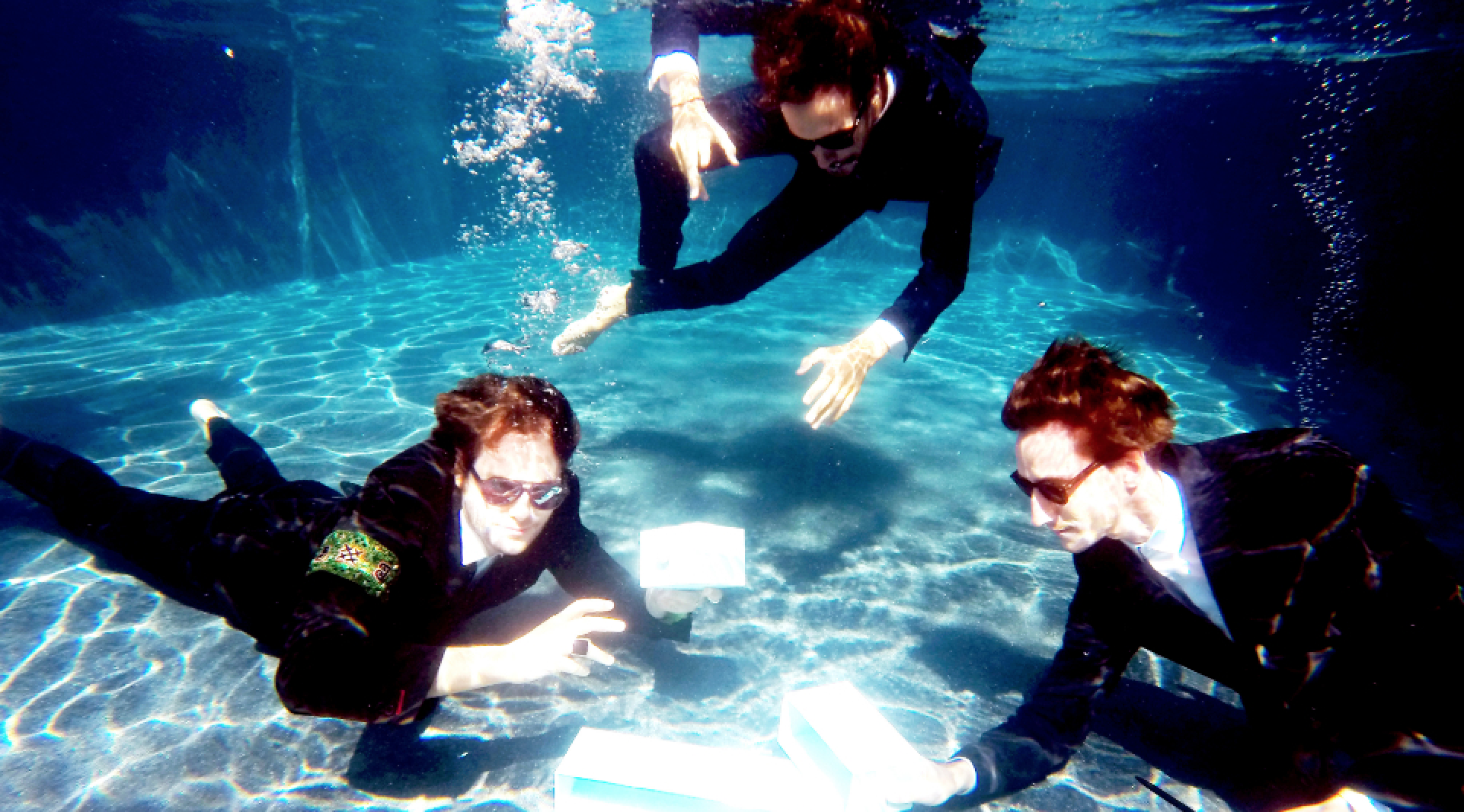 Competitions provide an ideal platform to nurture our creativity and explore new solutions. They allow us to discover new programs, develop innovative ideas, and break free from the constraints imposed by clients. Competitions enable us to be more radical, pushing us to develop concepts and ideas that may be more challenging and theoretical in nature.
Read full interview
Company
Multiply office
Country
Switzerland
Jury feedback summary
Soundbite Food Court is designed as a module which can perform individually or be joined to form longer structures. Its adaptability suggests that it could change based on the requirements of each years' festival. It features a serving station topped with a series of stairs which can be used for sitting, eating, or watching the surrounding festivities. The project is made of wood and polycarbonate sheets for protection of the interior space. According to the authors, the structure has been carefully considered to be cost-effective and easy to assemble, using locally reclaimed wooden elements and recycled polycarbonate panels. The project is lightweight, easily-disassembled and adaptable.
Buildner's commentary, recommendations and techniques review
Order your review here
The project is among the more graphically strong projects received in this competition. It begins with an effective full-spread rendering that is overlaid with simple diagrams and short, easy-to-read texts that make use of select highlighted words for clarity and dynamic color variation. Its site plan is especially strong in presenting the project's elements organically distributed across the green site. It is overlaid with annotation that adds visual complexity and informative details while not reducing readability. The project includes clear drawings that are well annotated and dimensioned to describe constructability and materiality. It would benefit from reduced text on the third sheet which appears tight and overwhelming with respect to the other sheets presented.