Architecture doesn't need to be large in order to make a big impact, seizing the opportunity to create a beautiful space wherever you see it can be one of the most fulfilling aspects of architecture and design. In the Trans Siberian Pit Stop architecture competition, participants are tasked with designing a pit stop that can be recreated along the world's most famous train route. But the pit stop locations along this route are as varied as they are magnificent - and often inhospitable - so one option would be to keep the designs small, yet still make a big statement.

Bus stops are hardly the most inspiring and architecturally exciting structures in the world, however that hasn't stopped creative minds from taking something ordinary and turning it into something extraordinary.


BUS:STOP

The Austrian town of Krumbach took this concept and ran with it with their BUS:STOP project, which transformed seven bus stops into incredible and eye-catching shelters. Featuring the work of internationally renowned architects, the project puts the spotlight on the tiny village of just 1000 residents and works to improve the connection of infrastructure and mobility in the rural area.


Bränden bus stop by Sou Fujimoto

Sou Fujimoto created a bus stop that resembled a forest of thin steel rods supporting a winding staircase.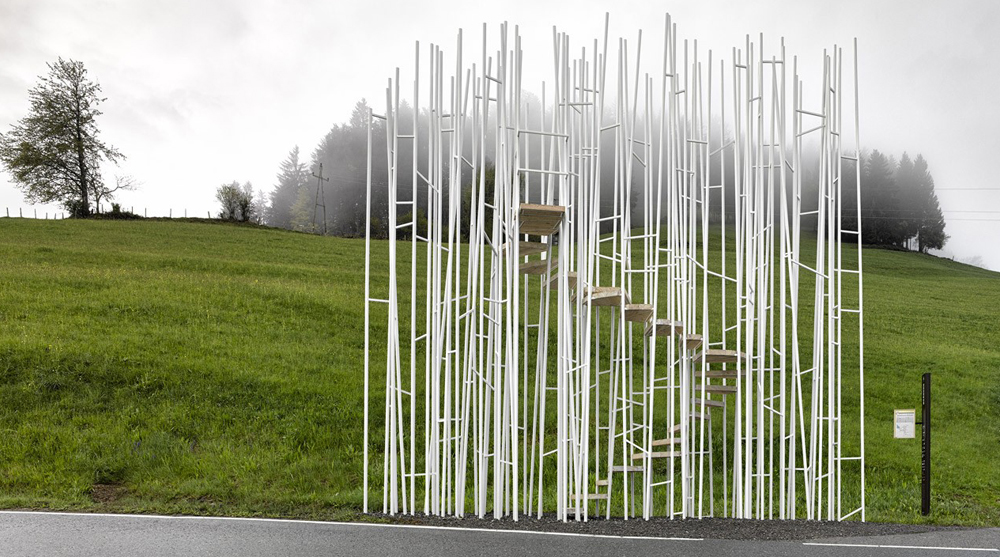 Image source

The architect of the 2013 Serpentine Gallery Pavilion claimed that his intention behind the bus stop was to create a location where people can meet and enjoy the views, as well as create a landmark within the small town.

"Both bus passengers and non-bus users can use this bus stop as a meeting point." Fujimoto explains. "Everyone may climb the tower-like bus stop to enjoy panoramic views of Krumbach. A transparent forest of columns can create interesting scenery in a site surrounded by nature."


Glatzegg bus stop by Wang Shu and Lu Wenyu of Amateur Architecture Studio

Built using local wood and craft, the Glatzegg bus stop by Wang Shu and Lu Wenyu of Amateur Architecture Studio was inspired by the 120 SLR folding camera. Acting as a lens that people can sit it, it focuses their view on the surrounding landscape.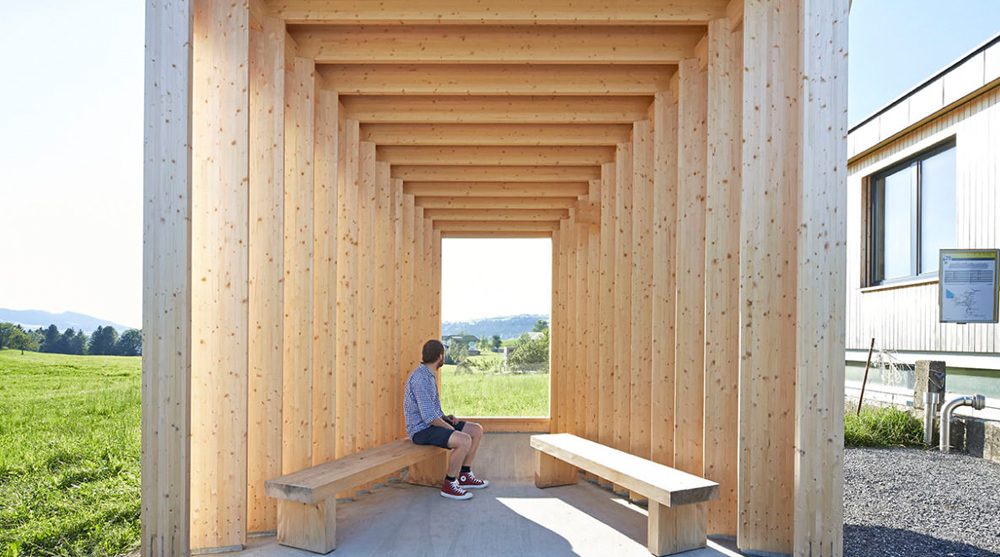 Image source

"The lens focuses on the scenery, the symmetrical, the static; sunlight illuminates the interior as gentle breezes filter through it; our gaze is guided to the mountains far away. The symmetry of the camera will undoubtedly trigger symbolic implications, but this symmetry is broken by the sloped eaves at the side," explains Shu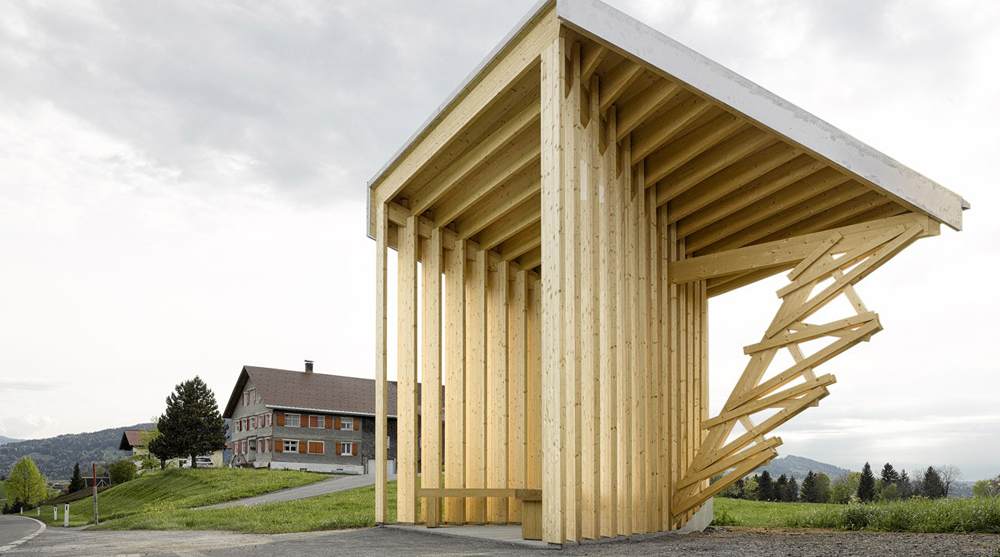 Image source

LOHA's Big Blue bus shelters in Santa Monica

Los Angeles-based firm Lorcan O'Herlihy Architects were commissioned by the city council to "revamp" the image of public transport in Santa Monica. Given the bus network's reputation as one of the least popular methods of transport, LOHA were brought on board to alter the public transport image. They developed a modular kit of parts that could be used to build an array of round blue canopies that were supported on slender poles, and could be easily adapted to suit every stop.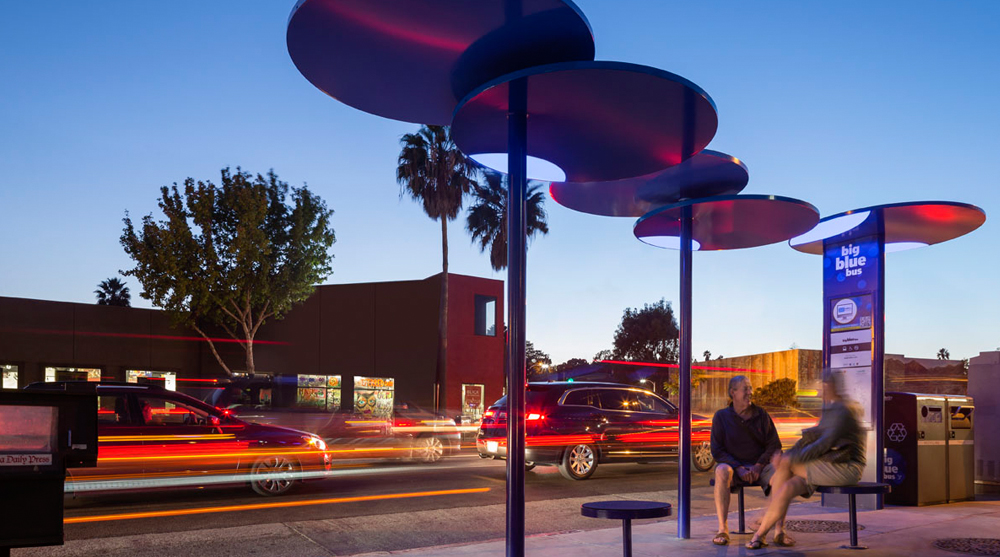 Image source

The modular design allowed the firm to create a series of shelters that avoided interfering with underground services, as well as adhering to government disability requirements, with the added advantage of taking into account the angle of the sun in order to maximise shading.

"When we reached a pole-and-disc solution, a modular kit of parts became an obvious way to address the provision of shade in over 360 locations, each with unique site constraints" O'Herlihy told Dezeen. "This flexibility has been key."


Pastel-pink bus shelters by Maxwan in Rotterdam

Dutch studio Maxwan designed three concave and convex bus shelters with pastel pink razor-thin rooftops that are reminiscent of billowing fabric. Supposedly the "world's thinnest steel roofs" at just 9.5 millimetres in thickness, the pastel-pink bus station canopies provide seating and shelter for 40 waiting passengers.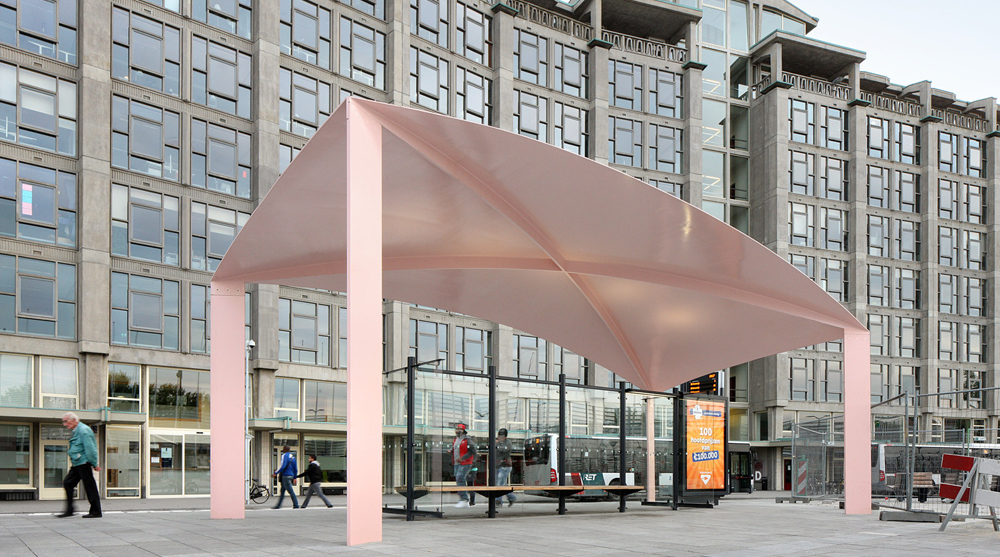 Image source

Located on a patch of tarmac outside a new bus terminus in Rotterdam Central District, the pastel-pink canopies are raised up on four flat-steel columns. One arches upwards in the centre, while another bows downward, creating the look of fabric moving in the wind.

"The tables, treated with a skin-tone finish, are warped silk-gloss surfaces that conjure up images of suspended cloth and wind-blown sails, despite their weighing five tonnes each," said Maxwan.


Big architecture in small packages

The work created by these world-renowned architects just goes to show that a project need not be big in size to create a big impact. Big ideas can be applied to the most simple of structures; anything from bus stops to train journey pit stops. Architecture enthusiasts the world over can put their big ideas to the test in the Trans Siberian Pit Stop architecture competition. Since the winning designs for this architecture competition will be considered for construction, they will need to show a strong identity that is easily recognised along the transsiberian train network. The Trans Siberian Pit Stops architecture competition is a chance for architecture enthusiasts to combine the rich cultural history of this iconic train route with modern architecture techniques, to create something that will become a part of this world famous landmark. Whether it's big or small.