We'd like to take the opportunity to introduce you to the winner of 1st prize of our "Kip Island Auditorium" competition - Michele Busiri-Vici, Clementina Ruggieri, Matteo Biasiolo and Pino Pavese from United States!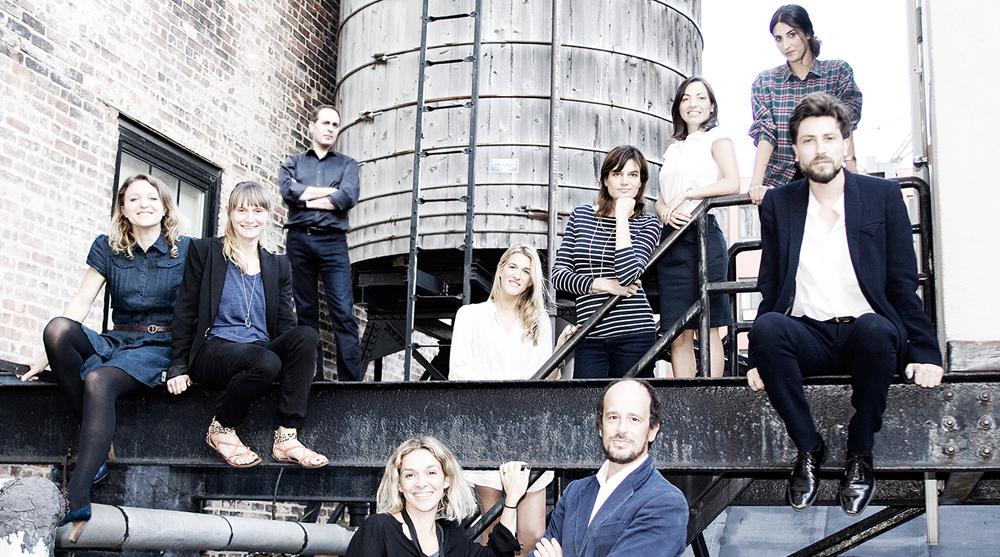 1st prize winners from United States
Space4Architecture (S4A) is a New York based architectural design studio working across different scales and typologies, from large scale hospitality and residential buildings to houses, interiors and custom furniture.
S4A takes pride on forging close collaborative relationships with their clients to produce spaces that address their specific needs and identities, inspiring and involving them through the design process, with the ultimate goal of improving the surroundings in which they live and work.
The office's international reputation for simplicity and clarity of design strengthens with every project researched and completed, as S4A believes this to be an essential key to create good and timeless environments for their clients.
S4A's non-hierarchical approach to design enables the office to create architecture that's free of stylistic limitations and firmly grounded in context.
The firm has the resources and technology necessary to execute all phases of the architectural process, from preliminary design through construction administration. Careful dedication to all of these phases enables the firm to develop its client's architectural needs while adhering firmly to budget and time constraints.
Space4 was founded in 1999 by Michele Busiri-Vici. Together with current principal Clementina Ruggieri they share an academic background from both the US and Europe and more than 20 yrs professional experience in the United States.
S4A currently employees 8 people, all of them architects.
Space4's projects have been published in numerous international magazines, including Architectural Record, Architectural Digest, Dezeen, Design Curial, Abitare, the New York Times Magazine, Synthesis, New York Spaces, Ideat & WWD.
Two of Space4's residential projects have been included in the "Architecture: Today's houses" book, which came out in February 2017 by Loft Publications , a division of Book Publishing.
Michele Busiri-Vici, principal and founder of Space4Architecture, has more than 20 years of experience in architecture in the United States.
A career in architecture was a matter of genetic inheritance for him. In fact, the family has passed the profession from father to son since 17th century.
He studied architecture at "La Sapienza University" in Rome, and graduated under the guidance of the late professor Luigi Pellegrin.
After moving to the United States in 1995, he worked 4 years at Carrano-Wickenburg Architects before founding Space4Architecture in 1999.
He is a frequent visiting critic at leading US design schools, including the Pratt Institute, Columbia University and the Rhode island School of Design. Michele is the lead designer of all Space 4 Architecture's projects.
Clementina Ruggieri Principal, has 15 years of experience in Architecture in the United States and she is a principal at Space4Architecture since 2013.
Clementina is a registered architect in New York State, she is a member of the AIA and has received her Passive House certification in 2013.
She holds a Bachelore of Science in architecture from the Bartlett School in London and a Master's degree from Columbia University.
Prior to joining S4A in 2013, she had founded and worked in BArC Studio in New York and worked at Lazzarini Pickering Architects in Rome.
Clementina is an adjunct assistant professor at Columbia University in New York. Together with Michele she is the lead designer of all of Space 4 Architecture's recent projects and has managed numerous projects from pre-design stage through final completion construction.
Can you give us brief information about the projects that you/your company have been involved with? For instance, what scale you have been focused on/preferred, any significant projects where You have been involved?
The Celino Hotel, Miami Beach (formerly known as the Park Central Hotel) which consists of a new 15,000 sq/ft ground-up building with 12 suites, restaurant and a glass bottom rooftop pool. The project also includes the renovation of 75,000 sq/ft of the historic Park Central Hotel, comprised of 3 adjacent buildings. It is scheduled to complete in the summer of 2017.
S4A is also currently working on a new, 34 storey residential tower in the Lower East Side of NYC, as well as a new 8,000Sq.Ft. House in Atherton, CA (scheduled to complete in 2017).
What does architecture mean to you and what is the role of architect in your society?
To us, Architecture is the ultimate creative expression, it is a unique form of creative expression which allows a constant, lively and ever-changing critical dialogue between designers and users. Architecture to us is a mission, it is, in fact, the fundamental mean through which we have to constantly research and improve the environment in which people live and work.
Why do you participate in architecture vision competitions?
We enjoy participating in Architectural Competitions as we see them as a healthy, refreshing way of putting our ideas out in the open, and a constant stimulus to move forward from from what we have already accomplished within our realm.
What advice would you give to individuals who struggle to decide whether it would be beneficial for them to participate in architecture vision competitions?
Our advice to architects who struggle to see their ideas or their projects recognized, who have difficulties finding clients in an environment that has become extremely competitive, is to definitely participate in architectural competitions, as they are the only way left to share your ideas and, in case of luck, see them become reality. It takes time and a lot of effort, but it ultimately rewards, no matter the results. If you love architecture there's nothing like the excitement that our office reached during the competitions design phase!