We'd like to take the opportunity to introduce you to the winner of the Green prize of our "Hong Kong Pixel Homes" competition - Danaiporn Pongamornprom (Nat), Thongchai Wongsrisuppakul and Veeramon Suwannasang (Ivy) from Thailand!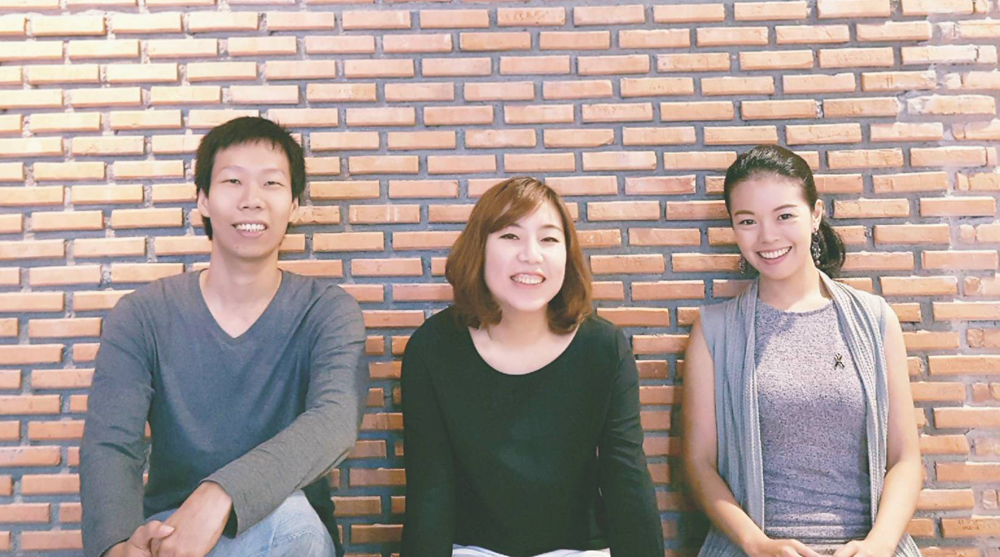 Green prize winners from Thailand
Established in 2016, MCP Architect is an innovative and passionate team of an architect and an urban planner basing in Bangkok, Thailand. Thom is an architect with over a decade experience in international architectural projects in cities such as London, Doha, Singapore and Bangkok. Ivy is an urban planner graduated from UCL and was a part of the environment and development division at United Nations ESCAP. For this competition, MCP Architect teamed up with a talented architectural designer and out-of-the-box thinker, Nat, who has just come back to Bangkok recently after working in Singapore for 8 years. Transformations for sustainable development are our prime interests, and we make it happen through our thorough analysis and innovative designs. We believe that built environment is more than a happy place people want to live in, for it leads spiral impacts to others' mental well-being, wider society's economic vitality and environmental quality. For this, we go way beyond form and function and look much broader yet closer to the needs of end users, altogether with the needs of wider society and our environmental world, while at the same time, not losing our own identity. Currently, we are working on a variety of projects including residential, commercial, cultural as well as urban development projects in Southeast Asia.
Brief information about the projects that you/your company have been involved with. For instance what scale have you focused on/preferred, any significant projects where company/ individuals have been involved?
Nat: I have been working on many residential projects in Singapore, but one of the significant projects I would like to state here is the involvement in the designing competition for Singapore embassy in Kuala Lumpur, Malaysia. Our team proposed the concept "box of jewelries" because we think the architecture should represent the image of the city, and Singapore is well-known for having greeneries everywhere. For this, the box that contains precious jewelries = the city where plants and trees can grow tall = the architecture to translate and symbolise the meaning. We studied the green wall facade in which we tried the staggered and interlocking language in multiple options. Finally we came to the design of floating building up to level 3 and spanning across from building core to core, opening up the space below and creating the flow of space to the middle courtyard behind. With this project, I gained not only a lot of knowledge and unforgettable experience, but also valuable and worth time spending in my career.
Thom & Ivy: Thanks to our specialisation in both architecture and urban planning, our company can then focuses on a variety of designing scales, ranging from residential areas to urban regeneration; from architecture of the building to the whole project masterplan. Some of the interesting projects we have been working on include that of the masterplan and architectural designs for a 960,000 sq.m. eco-resort in Dalat, Viet Nam (Status: Design proposal); architectural designs and a regeneration scheme for a 80,000 sq.m. resort in Koh Samet, Thailand (Status: Under construction); architectural designs and renovation planning for two of the top dental clinics in Bangkok, Thailand (Status: Under construction); the masterplan and architectural designs for a 3,200 sq.m. mixed-used organic farming and agricultural learning centre in Suphan buri, Thailand (Status: Under construction). Last year, we also participated in an appealing competition called "The mud house design" for a school in rural area of Ashanti, Ghana in which we proposed an architectural design for a science laboratory, building totally from earth and bamboo together with the use of technology easily done locally, to create a semi-public space that the building itself can create and sustain renewable energy as well as provide drinkable water for students, people living nearby, and the adjacent gardens.
What does architecture mean to you and what is the role of the architect in your society?
Nat: "I believe that it is only concept can make architecture much more unique."
Without any conceptual idea, there is no human perception in design because there is no story behind that can spread out to the others, to communicate with them or to make them feel and understand. I think architectures are similar to movies, there is so many people involving behind the films, working hard and trying to convince the others that imagine is infinite and human emotion is real. If the movies can move people or even change their life architectural design should also existed for that. I wish to see more buildings in this world having their own characters, own reasons, uniquely design with ideas and passions of architects. Therefore the role of architect for me is to always be creative and always try to provide more than just a shelter but a better living to everyone in the society and also help encouraging the younger generations to never give up.
Thom & Ivy: "Architecture means power to us, and architects are human who exhibit such a power to transform the world for the worse or for the better".
We may not know it, but we definitely feel it - we are living in the deteriorating world with fragile economies, extreme environments and heightening inequalities. It appears that past and current strategies will not suffice to achieve sustainable development - but we are still in time to make a change. To interrupt the business-as-usual, architects need to be a niche actor who act locally, yet think globally. What we design should be way sophisticated than visually aesthetic because built environment generates enormous influences on how residents feel and behave; how people interact in the wider society; how the project encourages economic vitalisation; how designing and construction process protect or degrade the environment; and most importantly how the projects sustain themselves in the long run. Not many professions have such the privilege in designing something with great impacts at a large scale. Whatever society you were born into, it is architects' responsibility to exhibit this power with vigilant cares to satisfy customers' requirements and our artistic imaginations, while at the same time, to use this power to better the world we are now living in.
Why do you participate in architecture vision competitions?
Nat saw the call for this competition one day, and it appeared to us all as a great opportunity to sharpen our innovation and designing skills. Besides, we always want to work together in some challenging project. Since everybody is now in Bangkok, so we knew this competition is a great chance for us to brainstorm and to do something stimulating.
What advice would you give to individuals who struggle to decide whether it would be beneficial for them to participate in architecture vision competitions?
If you are thinking or even hesitating whether or not to participate, we suggest you to just go for it!" Like the old saying goes, "if not you, then who? If not now, then when?" Architecture vision gives you a great chance to revitalise your brain and mind, and also a good opportunity to form up collaboration with others (which is extremely essential when working in the designing industry, and you know it!). On top of that, we believe architects and designers should neither keep great designs nor promising ideas to themselves. Let's share what you think or what you have or even who you are, to the outside world and see what happens next. There is only a win-win situation here, either winning over the prize or winning over yourself.