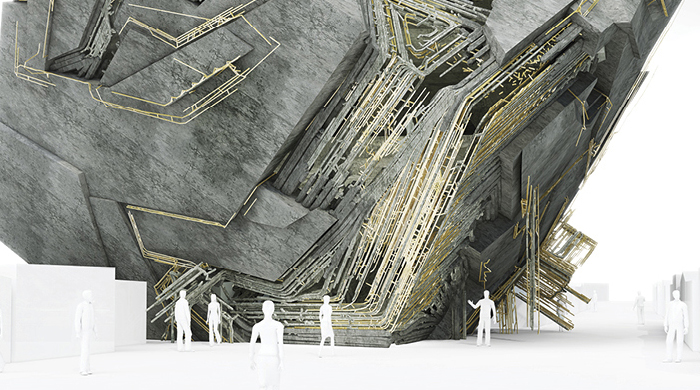 Buildner Architecture Competition Organisers offers a weekly interview with one of the winners of our competitions. This week we are pleased to introduce you to Gilles Retsin and Isaie Bloch, the 2nd prize winner of Ghost Town Challenge competition.


Please give us some insights on your biography.

This project is a collaboration between Gilles Retsin and Isaie Bloch. We both have separate practices and agendas but collaborate from time to time on specific projects. We both teach our own studio in the GAD program at UCL the Bartlett in London and teach a diploma unit together at UEL in London.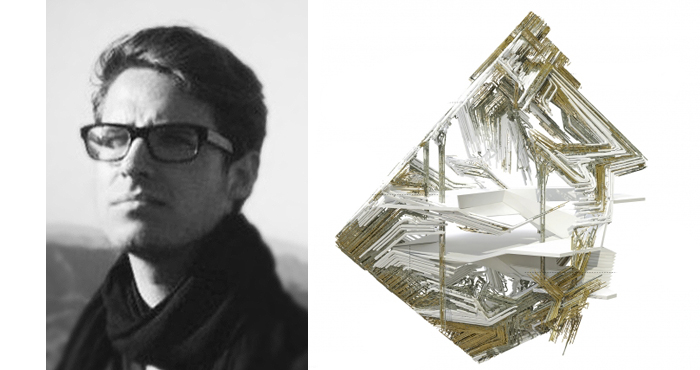 Gilles Retsin is a London based architect holding a Masters in Architecture + Urbanism (Dist) from the Architectural Association School of Architecture Design Research Laboratory (AA.DRL). His own practice tries to develop new insights into the core of multiple creative territories, operating on the intersections between design,visual arts, architecture and cities. He also co- founded SoftKill Design, a collective design studio investigating generative design methodologies for additive manufacturing and 3D-printing. Together with Manu Jimenez, he directs Research Cluster 4 at UCL the Bartlett school of Architecture's GAD programme, focusing on computational design methodologies for additive manufacturing in architecture. He is senior lecturer at the University of East-London, where he teaches the MSc in Computing and Design and diploma unit 6, together with Isaie Bloch. He also regularly teaches as unit-master for the AA visiting schools in China.

He gained professional experience while working in Germany and Switzerland, as architect with LAVA in Stuttgart, as project architect with Christian Kerez in Zurich and research based practice Kokkugia in London. He lectured and taught extensively across Germany, France, Finland, Belgium, Switzerland, the UK and China, most notably at the AA, UCL, Hong Kong University and the ETH in Zurich. His work has been published in Wired, the Guardian/the Observer, Urban Flux, Dezeen, Cnet and the Berliner Zeitung, and was recently exhibited in the Museum of Art and Design in New York.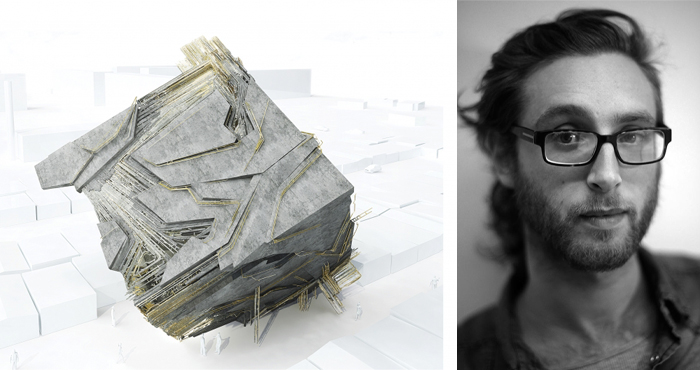 Isaie Bloch is founder of Eragatory, which is a versatile atelier with a focus on Design for 3D printing and Creative fabrication.

After receiving his first master degree in experimental architecture with distinction, in 2008, at Sint-Lucas Architectuur, Ghent, Belgium, he joined the postgraduate program Excessive in 2010 lead by Hernan Diaz Alonso, at dieAngewandte, Vienna, Austria, where he gained his second master degree with distinction.

Isaïe Bloch, founder of Ergatory, focuses his ongoing research and design ambitions on the correlation between craftsmanship and Additive manufacturing within several creative domains including Architecture, Fashion and Plastic arts. Using digital tools as a new set of brushes within the plastic arts, his designs (reaching from sculptures to utensils with a ornamental character) always focus on the geometrical capacities of what 3D printing has to offer as a production technique. Not because it is a new medium but because it offers him a very specific set of geometry to work with. According to that, none of his work can be produced trough other means then 3D printing.

Currently working under his own label "Eragatory", he has been collaborating together with a wide range of customers and several Artists, like Nick Ervinck, Iris van Herpen in the design and production of 3D printed sculptures and products.


Please tell us more about your previous projects and your professional preferences.

Isaie: I have been focusing most of my professional work within the field of product design and the arts. This with a special focus on 3d printing and digital fabrication. Eragatory just won the "Artist of the year" award at the 3dprint show 2013 in London. His most significant solo projects are currently exposed in the FRAC "naturalising architecture" exposition in Orleans. Over the past years Eragatory has created some of the bespoke 3dprinted sculptural dressed for the haute couture label Iris van Herpen (Capriole, Micro, Voltage, etc).

Gilles: I am currently working on a range of scales, from small product design to a house in the Belgian country side and a master plan. I actively try to work across scales to test ideas and strategies. With my other practice SoftKill Design, we continue to work on the prototype of a 3D printed house, which is a long term research.


What does architecture mean to you?

Gilles: Architecture is an autonomous project, a thing in itself which develops strategies to negotiate material, production and tectonics into defined and articulated spaces. The relationships between part and whole, material and production form the basis for architectural ideas – consciously or subconsciously. I like to investigate new architectural strategies which continuously interrogate this core principles and develop new ways of understanding them. Recently I am also more and more convinced that cities should be architecture as well, rather than products of " urban planning".

Isaie: Architecture is the craft of designing, generating and articulating space. Its core intent is to be able to draw a space that would speak for itself apart from any function, speaking of more underlying qualities as scale, mass, light, surface articulation, interiority, etc. a defined space that has an impact on you as visitor/society through its architectural ambition and articulation.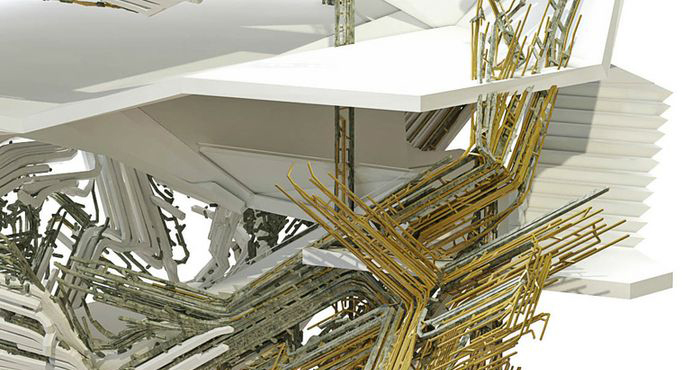 What is the role of architect in your society?

Gilles: Realistically, today, the role of the architect is reduced to barely nothing. I more liked the architects in the 20's and 30's – which were big figures in society and dared to design anything from cutlery to furniture to cities. Today hardly anything built and produced is architecture.

To become relevant again as a profession we need to show design actually matters– and dare to again design literally everything. Currently we are really surrounded by non-designed matter. Product design is incredibly boring and temporal. New cities are uninspiring and repetitive... As the world is becoming more and more urban, architecture should in principle have become one of the most important professions again...

With this competition we also tried to show the responsibility of the designer – we turned around the brief and designed a cafe/dining hall for the locals, while maintaining the fabric of garages. We talk about the social agency of the building to actually radically contribute something to the site and the people. We don't like the political plans to redevelop this place with a shiny museum – we like to propose something which is more targeted towards the local people without becoming a boring and politically correct building.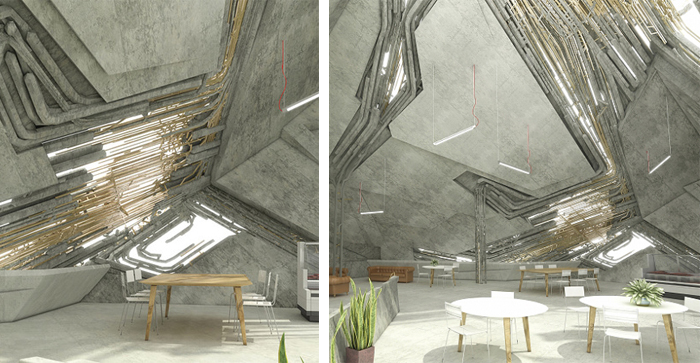 Why do you participate in architecture vision competitions?

Isaie: In this specific case, we were extremely attracted by the local conditions and site. The brief was very appealing to us because of its specific site conditions. The local social economical conditions were so well defined that we perceived it as a very good exercise and challenge.

Gilles: It is also a good moment to generate enough momentum to output something very quickly – we did this competition in roughly five days. It's a great opportunity to collaborate with other people and appreciate each others way of working.


What advice would you give to individuals who struggle to decide whether it would be beneficial for them to participate in architecture vision competitions?

Gilles: Its a good thing to force yourself to output a project within a limited time, and be responsible for the whole project, from design to outputting the panels. Competitions also give you a kind of "state of the union"; what are you actually capable of doing at this moment in time.

Isaie: Participating in competitions is always beneficial. You measure your projects to views of participants out of different disciplines, backgrounds, students and professionals. Which gives you a good critical thought about your work. On top of that the financial rewards for these are a very welcome gift for young developing companies, who are keen on investing that budget for future work and ideas.

see Ghost Town Challenge results here