Creative hubs are still largely misunderstood and undervalued in terms of their impact on a community. Far more than yet another co-working space, creative hubs support the wider creative community, and their contributions are often dismissed.
A report by the British Council in 2016 entitled 'Creative Hubs: Understanding the New Economy', highlights that the worldwide phenomenon of creative hubs are not as appreciated as they should be. The reports claims that the positive impact on jobs, products, urban development and informal education tends to be obscured by a reliance on statistical assessments.
"…Hubs have become nests for freelancers and micro SME's to gather, connect and collaborate," a spokesperson said.
"They are lighthouses for forgotten areas of the city, gathering people in unused spaces and connecting previously invisible communities."
Creative hubs vs coworking clusters
Distinguished from the more traditional working spaces, hubs are very different from what is termed 'clusters', which is a co-location of like-minded businesses. In contrast, hubs are defined as "place, either physical or virtual, which brings creative people together". Hubs therefore provide space and support for networking and business development as well as community engagement. Their purpose is to provide the services the creative entrepreneurs may not have had access to if they were working alone.
A spokesperson for the British Council praised creative hubs, saying they have an impact on "jobs, new products and services, talent development, regional talent retention, informal education, urban regeneration, research and development, new networks, innovative models of organisation, quality of life enhancements and resilience.
"By supporting hubs, we support the wider creative economy," they added.
Factoria Cultural Matadero, Madrid
Established in 2014 in a repurposed industrial building, the working space is one of 55 projects featured in the Golden Lion-winning Spanish Pavilion at the Venice Biennale. Factoria Cultural operates as an incubator for creative industries housed in a hall within the matadero Madrid contemporary arts centre.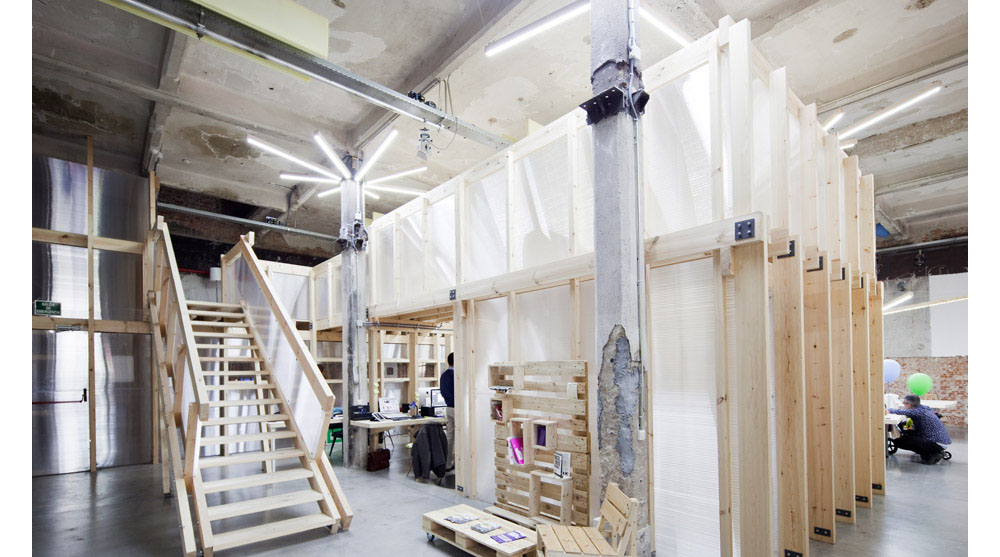 The former slaughterhouse and market complex is owned by Madrid City Council, and so any changes made to the original architecture needed to be reversible. This presented a challenge to Madrid-based Strategic Spaces, led by architect Angel Borrego Cubero.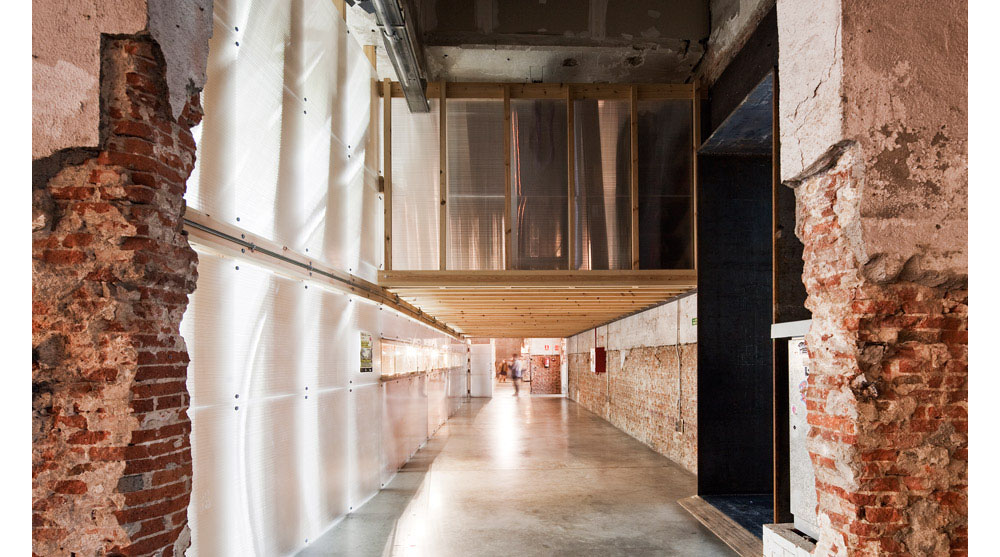 In order to accommodate the required 120 desks, more floor space was needed, and so additions were incorporated to use the space more creatively. This included a raised platform housing further workspace beneath the room's high ceiling, and a freestanding podium with large steps that can be used as seating during presentations.
Nova Iskra Incubator, Serbia
Initiated by NGO Kulturni Kod, this incubator was set up as a unique meeting point for emerging creative professionals and forward-thinking businesses. Its goal is to help promote and support entrepreneurship and career development which it does through activities organised in four key areas: coworking services; education, professional development and training; project incubation and consulting; and creative services for clients via its Nova Iskra Studio offshoot.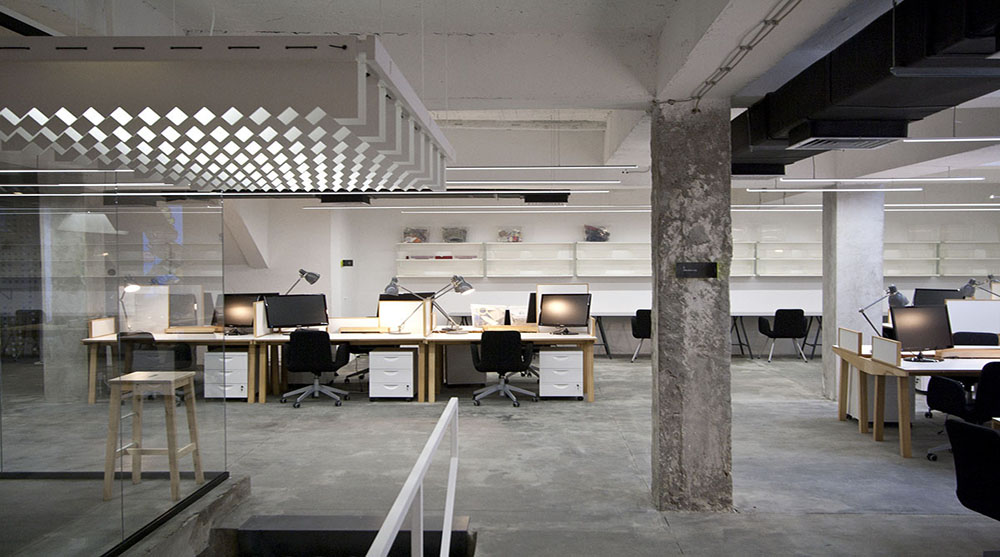 The multi-functional space was established on the premise of supporting young creatives from various different fields, such as design, architecture, interiors design and visual communications. Professionals from these fields would have access to resources for their individual work, as well as taking part in projects and programs developed in partnership with major international companies, schools and institutions.
Betahaus, Berlin
Part of a collection of creative hubs across Europe, the Berlin coworking space was the first location to open in April 2009 in Moritzplatz. Betahaus was designed for people who want to work on their own personal projects, while also exchanging ideas, knowledge and inspiration with others. Currently with 500 members, the Berlin Betahaus is a community of startups, entrepreneurs, corporate teams and freelancers, all who cooperate and collaborate to varying degrees.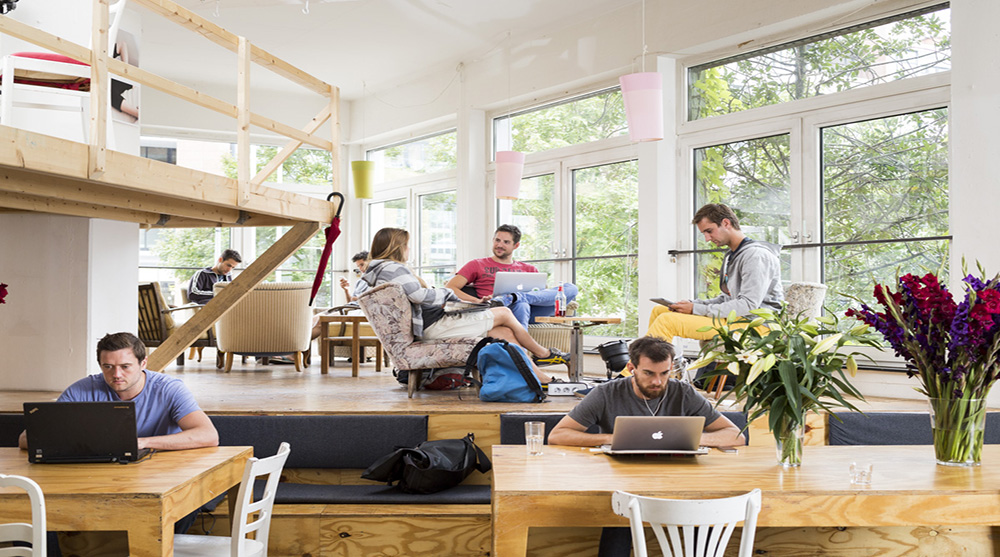 The Adelaide Creative Community Hub competition is a partnership between Buildner and the SA Chapter of the Australian Institute of Architects. This competition seeks to explore the possibilities for architecture to act as a stimulant - generating exciting public spaces that help establish a creative environment/atmosphere in the city of Adelaide.
Participants are welcome to design a permanent building, or temporary and transportable urban element that would facilitate a specific set of functions. It could also be used to accommodate a group of people who provoke and evoke creative events that would support Adelaide in its efforts to becoming a truly 'creative city'.