We'd like to take this opportunity to introduce the 3rd prize winners of our Charlie Hebdo Portable Pavilion competition - Luca Longagnani, Alexine Sammut and Marta Fernández Guardado from Germany!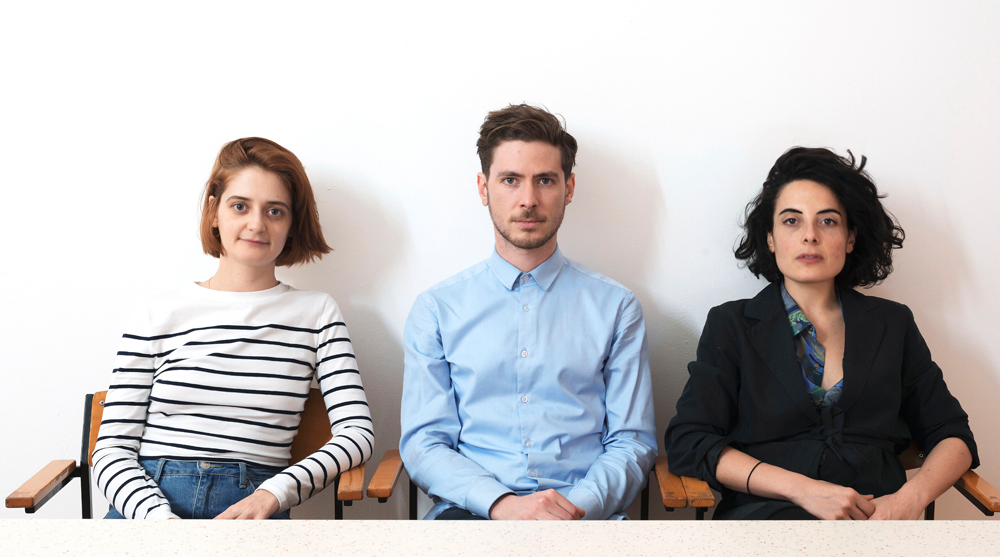 Charlie Hebdo Portable Pavilion 3rd prize winners: Luca Longagnani, Alexine Sammut and Marta Fernández Guardado
Alexine, Luca and Marta met almost 4 years ago in Berlin working for June14 Meyer-Grohbrügge & Chermayeff and became friends that nowadays share, among many other things, their enthusiasm for architecture. Alexine is about to start a new adventure working for the Berlin-based architecture firm Barkow Leigbinger. Luca is involved in different collaborations, among which the main one is with the German artist Michael Sailstorfer. Marta continues to work in June14 as a project manager.

Alexine is motivated by a personal love of patterns, especially ones that make things lighter. Recently she began investigating certain patterns to see how far they can go to dissolve 3 dimensional space, and how patterns can work to make things disappear. Luca is currently exploring the interaction between art and architecture, focusing on how architecture can be driven by an artistic approach. In the last couple of years he has been working on projects of public art and interior architecture. Marta is interested in how the living space affects the way we actually live. She has been involved in many collective housing projects, underlining a building group project in Kunfurstenstrasse, Berlin, that is planned to finish construction next year.
Why do you participate in architecture vision competitions?
Because competitions give the architect a very uncommon and unsafe freedom where a dialogue is initiated, not with clients or investors, but with themselves, working as a kind of exorcism where his passions, obsessions, fears, whims... come to light. Competitions help us to know ourselves better.
What advice would you give to individuals who struggle to decide whether it would be beneficial for them to participate in architecture vision competitions?
Be selective. Take part only in the ones that really relate to things that interest you at that specific point in time. Competitions are most of the times not economically effective but if you relate them to your own learning, they can be a very intense, constructive and powerful exercise to move further.