Concrete is the most utilised and perhaps the most versatile of building materials. Since the period of the Roman Empire, architects, engineers and builders have tested the limits of concrete, manipulating its contents to produce the wide variety of shapes and finishes we see around us in the world today. The following books are a just a sample of useful publications that analyse, document and photograph the use of concrete in architecture.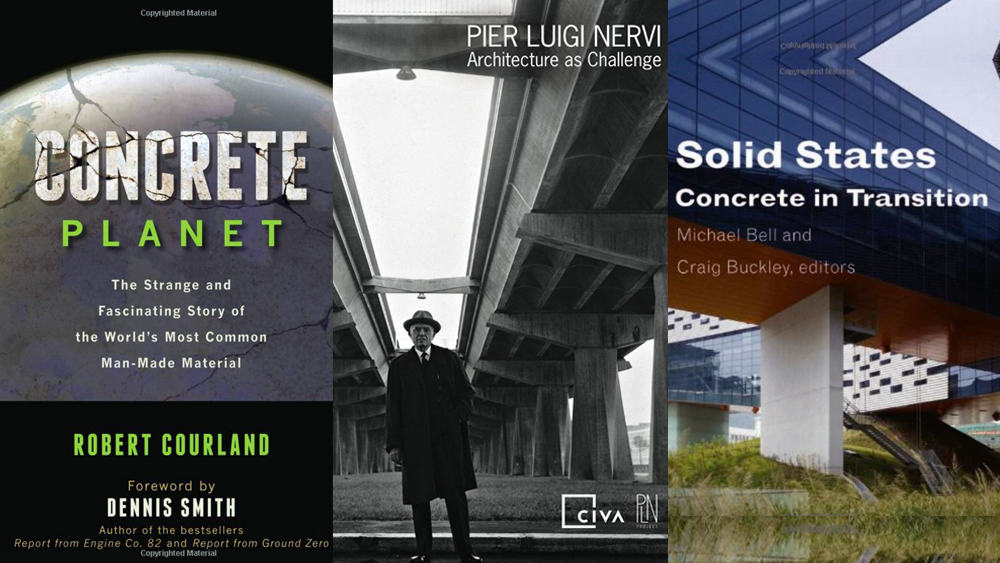 Solid States: Concrete in Transition, by Michael Bell and Craig Buckley
Find on Amazon

Though concrete has performed as a component of construction for millennia, it is a material consistently undergoing scientific development. Research continues to yield stronger, lighter products that challenge existing limitations of color, texture and implementation in building and design. Solid States: Concrete in Transition offers insights on the uses and potentials of concrete by a range of academics and professionals in the fields of architecture, engineering and fabrication. This anthology includes essays by Toshiko Mori, Bernard Tschumi, Steven Holl, Guy Nordenson, Matthias Schuler and others.


Pier Luigi Nervi: Architecture as Challenge, by Barry Bergdoll and Christoph Pourtois
Find on Amazon

Pier Luigi Nervi, the Italian engineer and architect, challenged the traditional uses of concrete to pioneer new ways of thinking about the material as a construction tool. His ribbed-concrete dome designed for the Palazzetto dello Sport, a stadium built for the 1960 Summer Olympics in Rome, combined techniques of ancient Roman dome-building with innovations in reinforced concrete to produce a groundbreaking structure for an international audience. Pier Luigi Nervi: Architecture as Challenge examines the full spectrum of Nervi's career from 1920s to the 1970s.


Concrete, edited by William Hall
Find on Amazon

This is a book noteworthy for its impressive collection of photographs, documenting the aesthetics of concrete architecture, with projects extending from ancient Rome to the 21st century. Concrete includes projects by architects such as Le Corbusier, Frank Lloyd Wright, Zaha Hadid and John Pawson.


Concrete Planet, The Strange and Fascinating Story of the World's Most Common Man-Made Material, by Robert Courland
Find on Amazon

Concrete Planet is an engaging account of concrete as told by a historian, with a focus on narrative rather than on the technological. The author navigates thousands of years of civilization to tell a story of concrete and its varied influences on the constructed environment. The result is a light and enjoyable read constructed with colorful characters and a fascinating collection of details.


Have more great books on this topic? Submit your ideas to Buildner here!