Ecotourism and responsible travel is becoming more and more integrated in with regular forms of tourism. It centres around tourists visiting fragile, pristine, and relatively undisturbed natural areas, reducing their impact on the natural surroundings while learning and contributing to the preservation of the area.
In recent years, ecotourism has grown from simple working holidays in animal reserves, to responsible and sustainable resorts around the world that offer luxury, relaxation and education on the surrounding environment. Ecotourism architecture around the world is diverse and exciting, with many incredible projects successfully combining beauty with sustainable design.
Areias do Seixo - Santa Cruz, Portugal
Designed by Vasco Vieira, Areias do Seixo is nestled along the Atlantic shore in Portugal, overlooking sweeping ocean and country views. This remarkable installation combines a modern sensibility with a deep appreciation of nature and the environment. With a bold geometric structure, Areias do Seixo features 14 rooms, one townhouse and five villas, all designed with an inspired and eclectic selection of handpicked decor.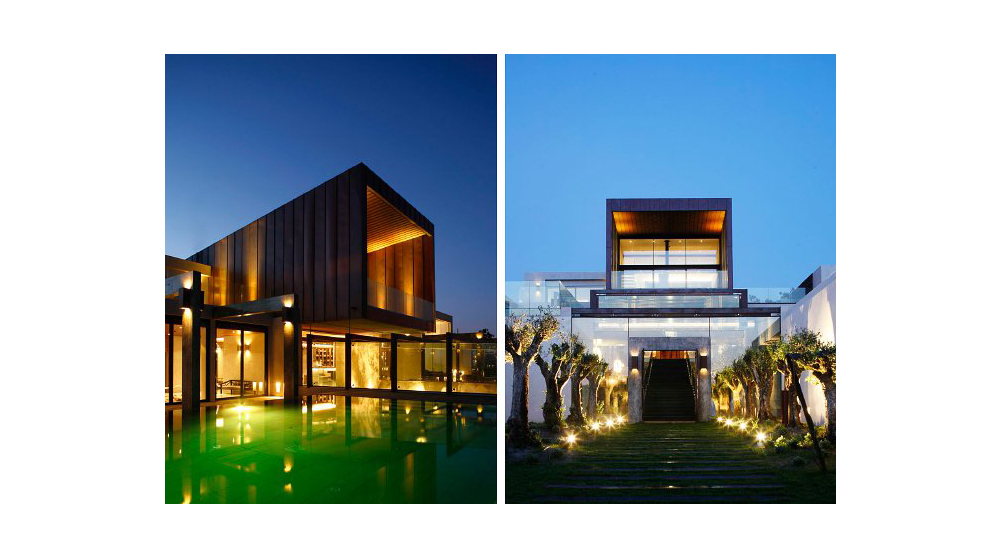 The Areias do Seixo resort in Santa Cruz, Portugal educates guests on local agriculture and farming techniques. Image source
This eco-friendly resort acts to raise the awareness of the local community, its guests and employees. Guests are invited to join in and learn agricultural and farming techniques as well as sustainability methods that are employed throughout the property. The property also features an online engine that allows guests to monitor the consumption of water, gas and energy of the hotel and measure the efficiencies of the different tactics taken to be more green.
Asilia Carbon Neutral Lodges - Tanzania
Designed by Caline Williams Wynn of Artichoke design studios, Asilia ecotourism constructed a series of eight eco-friendly domes with stunning views of Serengeti National Park.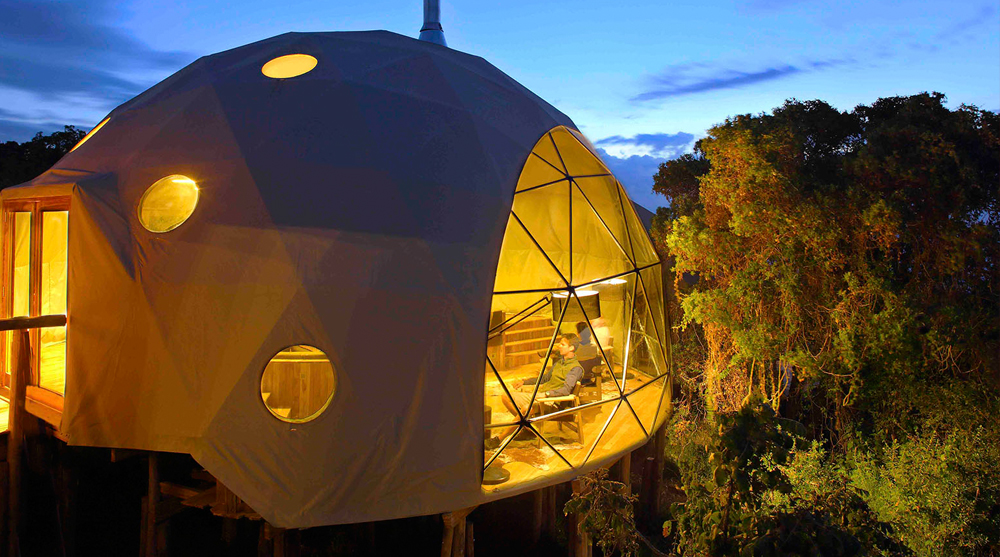 Dome-shaped tents in Tanzania keep guests warm at 10,000 ft. Image source
The geodesic igloos are situated on the edge of the mountain forest around the Olmoti volcano and function as the main base for tourists who come to visit the wild Ngorongoro Conservation Area in Tanzania. The dome-shaped tents are located some 10,000 feet above sea level and, thanks to their sensible design, maintain comfortable temperatures at night and during the day.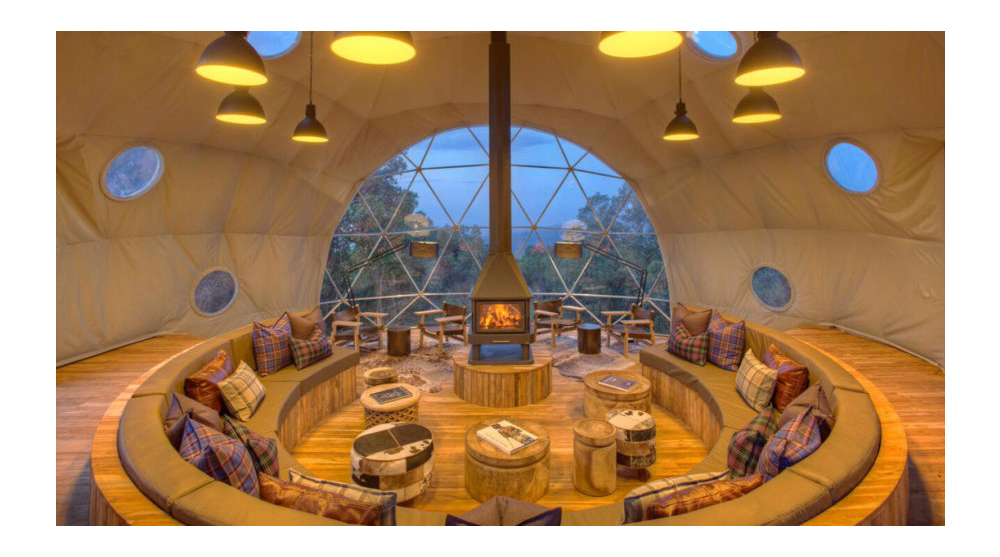 Dome-shaped tents offer incredible views as well as comfortable interiors. Image source
Each dome features sinuous Perspex windows that offer incredible views of the surroundings and wildlife, wood-burning stoves, Masai-inspired tartan cushions, ottomans and other objects that strongly reference the local vernacular.
Lapa Rios Eco Resort - Costa Rica
The Lapa Rios Eco-Lodge in Costa Rica takes ecotourism to a new level, going beyond traditional solar panels and water recycling. Initially established by John and Karen Lewis as a nature reserve, the resort utilizes green construction, helps protect local wildlife, supports a local elementary school, and, last but not least, uses pig feces to power its kitchen.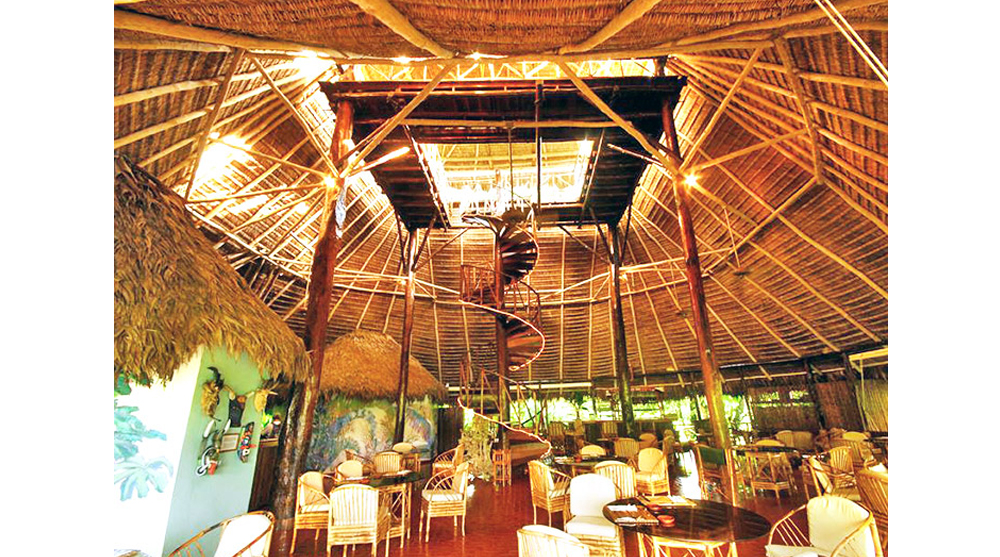 Pig poo-powered resort in Costa Rica. Image source
That's right, the power for the resort's kitchen comes entirely from harnessing biogas excreted by pigs who consume any organic waste that is not recycled or used as compost. This innovative approach to ecotourism hasn't hampered the architectural design of the resort at all.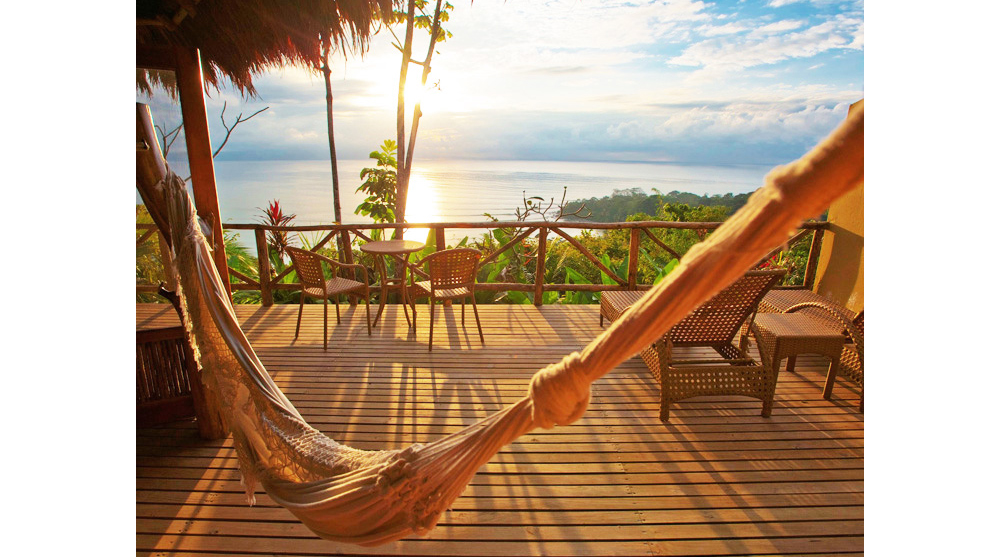 Ecotourism need not sacrifice stunning views or luxurious surroundings. Image source
Nestled in the privately own Lapa Rios reserve, great care was taken when the eco resort was constructed to ensure both a beautiful and tranquil environment for guests that would not impact the plant and animal life surrounding it.
Ecotourism Centre - Fontainebleau, France
This project, designed by Inca Architectes, is located in the popular forest area of Fontainebleau in France within an extremely sensitive nature reserve. The Eco tourism centre was the first of its kind to be introduced within the île de France region, and its purpose is to increase public awareness of the region's great fragility. Centred around a reception and exhibition area, the project includes a large hall designed for welcoming groups and conducting pedagogical activities.
The first of its kind, the Ecotourism Centre was constructed in France by Inca Architectes. Image source
The Ecotourism building is considered to be a living room in the woods, with wide and smooth shapes gently wandering along the preserved trees inspired by the eroded stones seen throughout the site. Great care is taken to strike a balance between architecture and preservation; with plenty of public areas and other fragile forest areas with limited public access.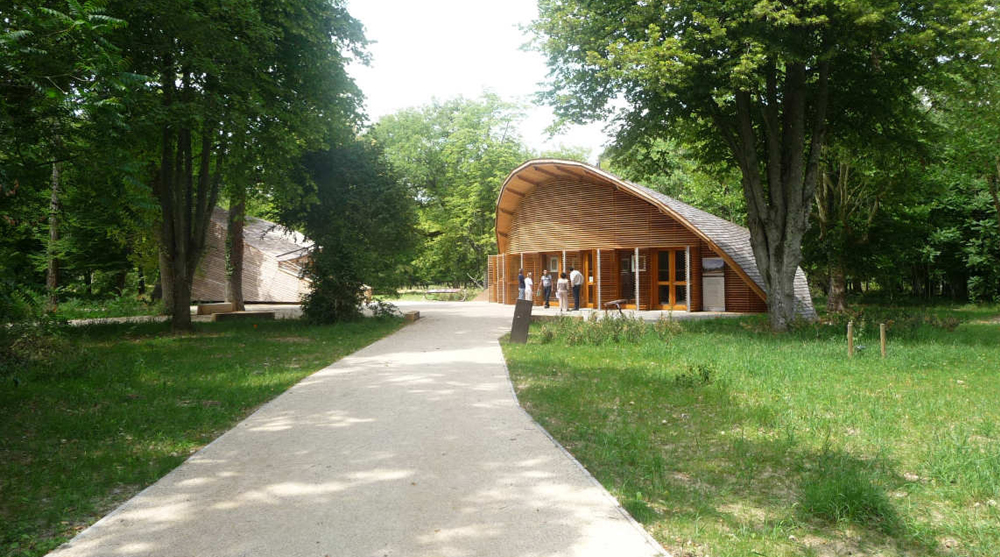 The Ecotourism Centre incorporates eco-friendly energy sources and can be reversed if necessary without major impact on the environment. Image source
The project followed the global environmental approach during construction in order to limit its impact on the surrounding nature. The orientation choices and the protection from the main winds optimise the bioclimatic solutions and the eco-friendly energy sources used. The choice of material and the superficial foundations ensured opportunities for eco-construction and potential reversibility.
Blue Clay Country Spa - Latvia (Planned)
As one of Europe's greenest countries, Latvia is a strong promoter of ecotourism, which is especially popular due in thanks to its remarkably low population density and the sheer amount of green and untouched natural areas.
For the Blue Clay Country Spa architecture competition, participants are asked to create designs for a guest house complex that is capable of providing overnight accommodation for one family. The guest house would also need to include treatment rooms, accommodation for the staff, and other ecotourism elements such as a small farm to house local animals.
The winning designs will be considered for construction, and those with the most inventive and appropriate eco-friendly and cost-effective measures integrated into them are due to be selected.