We'd like to take this opportunity to introduce the 2nd prize winners of our Bangkok Artists Retreat competition - Pimnara Thunyathada and Boonvadee Laoticharoen from Thailand!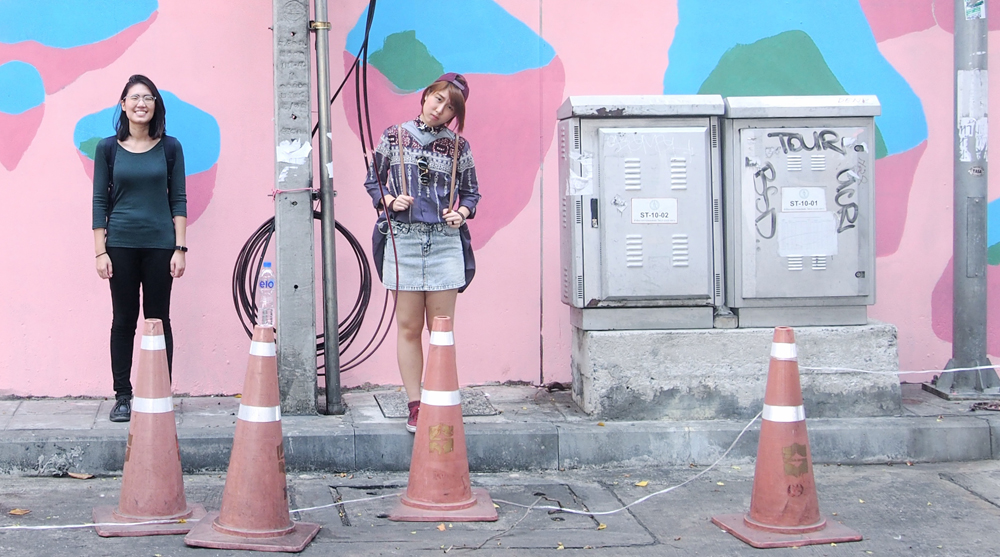 Bangkok Artists Retreat 2nd prize winners: Pimnara Thunyathada and Boonvadee Laoticharoen from Thailand
Pimnara Thunyathada : I am a 22 year old fresh graduate from the School of Architecture and Design, King Mongkut's University of Technology Thonburi. Currently, I am working as a full-time architect in the landscape company called TROP : terrains + open space led by Mr. Pok Kobkongsanti. However, on my weekends, I am a graphic tutor and advisor under my own brand called "Architionery." This May, I will be moving to Brooklyn to further my architecture study by taking a Master's in Architecture and Urban Design at Pratt Institute.

Boonvadee Laoticharoen : I am a 23 year old Interior Architecture student at Chulalongkorn University. I was an intern at the Department of Architecture led by Mr. Amata Luphaiboon and Mrs. Twitee Vajrabhaya Teparkum during the summer session of 2014 and 2015. I am going to graduate with a Bachelor's degree in May 2016.

Pimnara Thunyathada : I had been involved with a variety of architecture scales. For example, housing, an art gallery, a community mall, condominium, and conceptual works. Currently, I am working on competition work, for my myself and my company. The scale I am handling right now is small-scale and mega-scale, however, I would prefer small-scale architecture more than large-scale architecture so that I can concentrate on delicate details and control the overall quality of project. The competition I am involved in right now are Buildner and ASA competition 2016.

Boonvadee Laoticharoen : As an interior architecture student, I am mostly involved with small-scale designs. I am now focusing on a small structure/unit that can be developed from furniture to architecture.
What does architecture means to you and what is the role of an architect in your society?
Pimnara Thunyathada : Architecture, in my opinion, is a thin line between creativity and reality, which adapts through human's usage from time to time. It holds aesthetic quality but at the same time, it contains full practicality. The role of an architect in society is to use their creativity to drive the world in its most creative and sustainable ways.

Boonvadee Laoticharoen : I think I don't know what architecture is, but as an architecture student, I believe that good architecture can improve our society because architecture is a part of our life. We gain new experiences through architecture everyday.
Why do you participate in architecture vision competitions?
Pimnara Thunyathada : It is a great opportunity for me to participate in an international competition. My friend and I were very excited to join this competition and we tried our best to keep the idea so simple yet so fresh. I came up with a lot of imaginative perspectives after getting the competition brief from my friend and knew right away that I must participate in this competition.

Boonvadee Laoticharoen : At first, my friend who participated in the "Bangkok Fashion Hub" campaign last year shared this competition with me. I was coincidentally working on a similar project, an art center, so I was really exciting to join the competition as I am also interested in the relationship between art and architecture.
What advice would you give to individuals who struggle to decide whether it would be beneficial for them to participate in architecture vision competitions?
Pimnara Thunyathada : Please join a competition, the opportunity is more than the phrase "worth it" can describe. Not only that you can put your skills and ideas up against international competitors, but also it is a great way to keep yourself fresh in this architecture world. Please don't hesitate to give yourself a worthwhile opportunity!

Boonvadee Laoticharoen : Don't be afraid and give it a try ! What would be a better way to learn than experiencing it.